What Are You Doing for New Year's Eve, Jair Bolsonaro?
Brazil's losing presidential candidate might be ditching his wife and skipping Lula's inauguration to hang out at Trump's resort.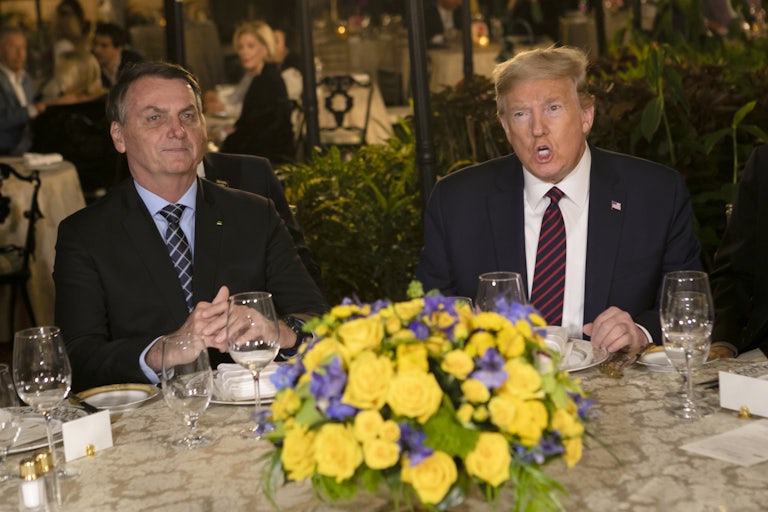 Eva Marie Uzcategui/Getty Images
Brazil President Jair Bolsonaro joins President Donald Trump at Mar-A-Lago in March of 2020.
The past few years have been rough on all of us. Many have lost jobs, homes, loved ones. In these uneasy times, we have been able to look up to the select few who have persisted anyhow—but even our heroes need a break too.
Such is the tale of authoritarian former Brazilian president Jair Bolsonaro, whose loss to Luiz Inácio Lula da Silva in this year's presidential election may lead him to seek refuge at … Donald Trump's Florida resort? It's a very on-trend move, anyway.

According to Brazilian outlet UOL, Bolsonaro plans to skip out on officially handing over the presidential sash to Lula, and instead cool his jets at Trump's Mar-a-Lago resort in Palm Beach. The venue is familiar territory for Bolsonaro; he and Trump shared a meal there in March 2020, right at the beginning of the pandemic which both leaders famously bungled (the U.S leads the world in Covid deaths at nearly 1.2 million; Brazil is right behind at nearly 700,000).

A future Zagat guide might describe the resort as the perfect sanctuary for serially-criminal and basically off-putting guys who just cannot fathom that people simply might not want to vote for them again. However, some Bolsonaro insiders claim that his New Year's Eve destination will actually be an Orlando condominium—a home offered to Bolsonaro by a supporter.

La Nacion's reporting affirms the ambiguity of Bolsonaro's exact plans, but confirms preparations are indeed in motion for the former President to travel to Florida. He will likely depart in the coming days, as access to the presidential plane only lasts through his term, which expires Saturday. So, while Bolsonaro will ring in the new year retreating from his home country, the revival of Lula will mark the new year in Brazil.

It remains unclear whether Bolsonaro will be joined on holiday by his wife, Michelle. Earlier reports indicated she would not be traveling, but recent updates report her planning to travel to Miami while her husband embarks on his solo venture.

Regardless, Bolsonaro—who has still refused to concede the election—now may be skipping his successor's inauguration and ditching his wife to sojourn in Florida for up to two months. Perhaps we just found our Loser of the Year.