Ron DeSantis Wants to Make It a Felony to Have an Undocumented Person in Your Home or Car
A new Florida bill criminalizes not just undocumented Floridians but anyone who associates with them.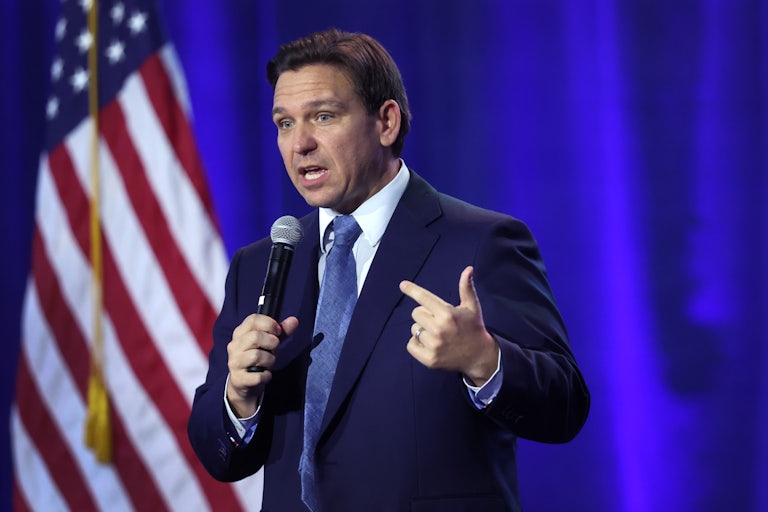 Scott Olson/Getty Images
Around 772,000 Florida workers, students, and community members are undocumented. And Governor Ron DeSantis wants to make it a felony for anyone to have them in their home or even give them a ride.
Senate Bill 1718, part of Desantis's broad repressive legislative agenda this year, targets not just undocumented people but also anyone associated with them. The bill, which is likely to pass the Republican-controlled state legislature, criminalizes anyone who transports an undocumented person "into or within this state." In other words, anyone—co-worker, friend, neighbor, classmate—giving a simple ride to someone they know or care about who is undocumented would be guilty of a third-degree felony.
The bill also criminalizes anyone who "conceals, harbors, or shields" (or "attempts" to do so) an undocumented person in "any place within this state." Nearly 4 percent of Floridians are undocumented. The bill text, reading like an edict issued in Margaret Peterson Haddix's Shadow Children series, foments fear about these hundreds of thousands of people. It isn't hard to imagine law enforcement agencies conflating a house party or simple afternoon cup of tea with a secret migrant-harboring operation.
Under the framework, any person with a prior conviction who commits the "crime" of hosting an undocumented person would be liable to an even higher second-degree felony.

The bill imposes thousands of dollars of fines on private employers who give work to undocumented people; employers are not allowed to continue employing someone if they find out they are undocumented. And any undocumented person who works without appropriate identification papers would be liable to a third-degree felony. The bill also prohibits undocumented people from being admitted to the Florida bar, overturning standing law that currently allows it.

If the bill is passed into law, Florida would also refuse to recognize any out-of-state licenses issued to undocumented people. Authorities would be directed to take DNA samples from undocumented people who are booked into jails or detention facilities per orders from the Immigration and Customs Enforcement.
Finally, the bill orders Medicaid-accepting hospitals to ask patients to indicate their citizenship status. Ostensibly meant as a cost-tracker for undocumented patient care, the bill reads that the question must be accompanied with an assurance that the patient's response will not affect care or result in a report to immigration authorities. However, given the extremity of the rest of the bill, even with regard to criminalizing people who host undocumented people in "any place," the assurance does not welcome complete trust.
"Governor Ron DeSantis and his Republican colleagues continue to show that they are more focused on attacking and vilifying immigrants and Latinos to advance their political agenda than solving the real problems hurting Floridians," said Congressional Hispanic Caucus Chair Nanette Barragán and Vice Chair of Policy Darren Soto, who represents Florida's 9th district, in a statement.
Republicans hold supermajorities in both the Senate and House, and, of course, the governorship; the repressive bill that further criminalizes undocumented people—and the co-workers and classmates, neighbors, and friends with whom they've developed relationships—is set to pass.
"This should be the model for all 50 states going forward," boasted state Senator Blaise Ingoglia, the sponsor of the draconian bill.