"Everything Everywhere All at Once" Director Slams Anti-Drag Bills in Oscars Speech
Daniel Scheinert used his emotional Oscars acceptance speech to defend drag.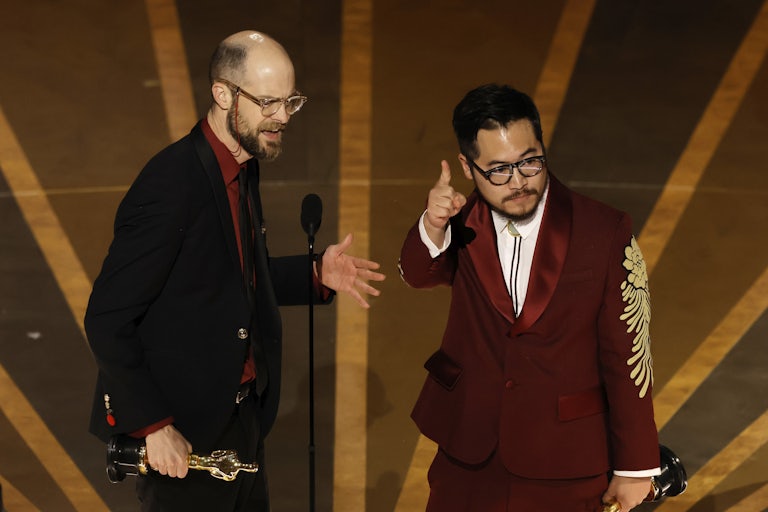 Kevin Winter/Getty Images
Daniel Scheinert and Daniel Kwan accept the best director award for "Everything Everywhere All at Once" onstage during the ninety-fifth annual Academy Awards on March 12.
One of the directors of indie breakout film Everything Everywhere All at Once slammed growing Republican attempts to ban drag performances during one of their many acceptance speeches at the Oscars ceremony.
The multiverse-spanning film about martial arts, mental health, and family ties swept the Oscars Sunday night, racking up seven wins that included some historic victories in the best actress and best supporting actor categories.
When accepting the award for best directing, Everything Everywhere All At Once directors Daniel Kwan and Daniel Scheinert (referred to as "the Daniels") called out the importance of community for creativity.
"We want to dedicate this to the mommies, all the mommies in the world," Scheinert said. "To our moms, specifically my mom and dad, Ken and Becky. Thank you for not squashing my creativity when I was making really disturbing horror films, or really perverted comedy films, or dressing in drag as a kid, which is a threat to nobody."
Scheinert's comment was met with cheers throughout the audience. He was referring to the more than 20 bills attacking public drag performances being considered in state legislatures throughout the United States. Tennessee recently became the first state to pass one of these bills into law.

On a larger scale, Republican-led states are cracking down on LGBTQ rights, from the drag bans to prohibiting gender-affirming care for minors and removing books featuring LGBTQ characters from school libraries.
One of the storylines in Everything Everywhere All at Once is about matriarch Evelyn, played by Michelle Yeoh, coming to terms with her daughter Joy's (Stephanie Hsu) sexuality.
Kwan also highlighted how important a community is to creating art. "The world is opening up to the fact that genius does not stem from individuals … but rather, genius emerges from the collective," he said.

"We are all products of our context. We are all descendants of something and someone."