Missouri Becomes Latest State to Attempt a Ban on Gender-Affirming Care
The state's attorney general pulled the trigger on an emergency order despite the fact that the legislature is currently debating a bill.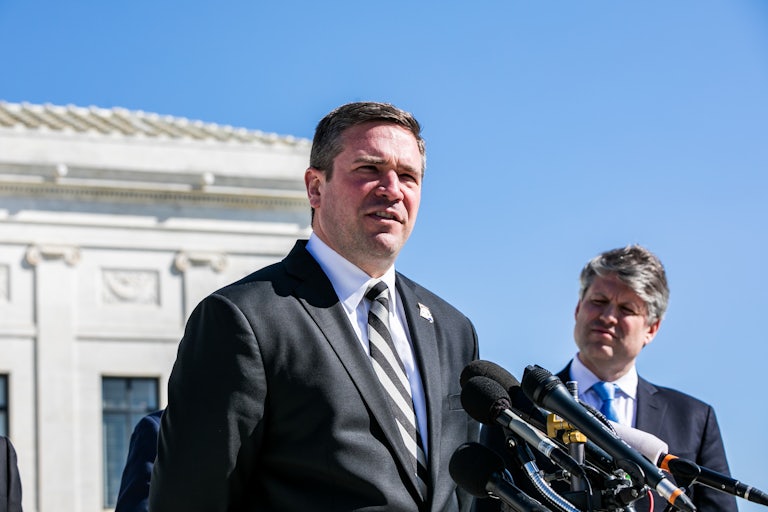 Valerie Plesch/Getty Images
Missouri Attorney General Andrew Bailey
The Attorney General of Missouri issued an emergency regulation Monday banning gender-affirming care for minors, skipping over the legislative process in a massive power grab.

The Missouri state legislature is already considering a bill that would ban certain medical procedures, including puberty blockers and hormone therapy, for transgender Missourians under the age of 18. Monday's emergency regulation by Attorney General Andrew Bailey would effectively ban such care until the bill passes or fails.

The regulation claims that "because gender transition interventions are experimental, they are covered by existing Missouri law governing unfair, deceptive, and unconscionable business practices, including in administering healthcare services."

The measure requires an 18-month waiting period before starting care, during which potential patients must be screened for "mental health comorbidities" and autism. The text also describes questions about gender identity as a "social contagion," the idea being that young people are only questioning their identities because they see other people do it, not because they might have an authentic reason to do so.

"As Attorney General, I will protect children and enforce the laws as written," Bailey said in a statement. "I am dedicated to using every legal tool at my disposal to stand in the gap and protect children from being subject to inhumane science experiments."

The cruel irony, of course, is that providing gender-affirming care to trans and nonbinary teenagers decreases the amount of depression and anxiety they feel. It also makes them less likely to consider suicide. Moreover, targeting LGBTQ people through legislation, as many Republicans are doing across the country, only demonizes the community and puts them at an increased risk of violence.

Reporter and trans rights activist Erin Reed slammed Bailey's measure as a "power grab," and pointed out that many mental health issues could be solved simply by providing gender-affirming care.