California Will Cut Insulin Costs by 90 Percent, Capping Price at $30
"People should not be forced to go into debt to get lifesaving prescriptions," said Governor Gavin Newsom.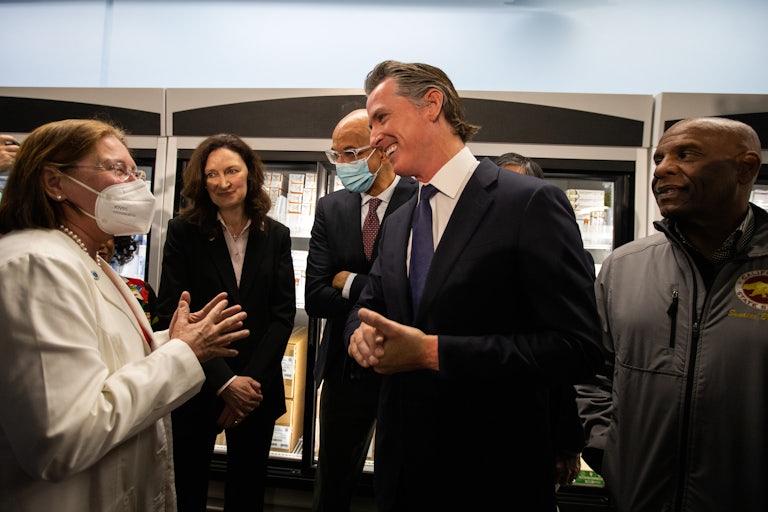 Francine Orr/Getty Images
Dr. Tanya Spirtos, president-elect of the California Medical Association, speaks with Governor Gavin Newsom following a press conference. Newsom just announced that the state has landed a contract with a company to produce insulin.
California will cap costs for insulin at $30, and it will begin manufacturing Naloxone, a nasal spray that helps reverse opioid overdoses.
Governor Gavin Newsom broke the news on Saturday, announcing that the state struck a contract with manufacturer CIVICA to make 10 milliliter vials of insulin that can cost up to $300 available to California residents at $30.
"People should not be forced to go into debt to get lifesaving prescriptions. Through CalRx, Californians will have access to some of the most inexpensive insulin available, helping them save thousands each year," said Newsom.

CIVICA, a nonprofit generic drugmaker, aims to combat drug shortages and price spikes by producing generic medicines that are more affordable and accessible. The company is backed by various insurers, philanthropies, and—as in its deal with California—state partnerships.

Coupled with his insulin announcement, Newsom detailed his Naloxone policy as part of a broader "master plan" to tackle the fentanyl and opioid crisis, which includes a "crackdown" on drug trafficking and efforts to "raise awareness." Newsom's proposed 2023 budget includes $79 million to further distribute Naloxone and another $4 million to make fentanyl test strips more widely available. These millions don't include Newsom's plans to begin manufacturing the Naloxone nasal spray in-state. California's Health and Human Services Agency is working with CIVICA to find a suitable manufacturing facility, according to a release.

Newsom's moves follow news that pharmaceutical company Eli Lilly will cap its insulin costs to $35 per month. Naturally, these are consequential changes for many people who rely on this drug. But insulin does not, in fact, cost enough to be priced at $300 in the first place—or perhaps even at $35. As Charlotte Kilpatrick noted in these pages, it is peculiar that the fates of millions of patients' lives and bank accounts are up to the whims of pharmaceutical companies at all—especially in America, where people pay an average of 256 percent more for medication than people in 32 other Organization for Economic Co-operation and Development countries.

Moreover, if Newsom could move beyond a partnership to a fully state-owned manufacturing apparatus, he could guarantee a roughly $10 cost for insulin. At the moment, however, this is an important measure of relief coming for thousands of Californians—and Newsom's decision may spark further rethinking about how much insulin, as well as health care more generally, should cost in this country.