John Fetterman Asks Bank Execs if CEOs Who Crash Banks Should Get Work Requirements
The Pennsylvania senator challenged former executives from Silicon Valley Bank and Signature Bank about the bank collapses.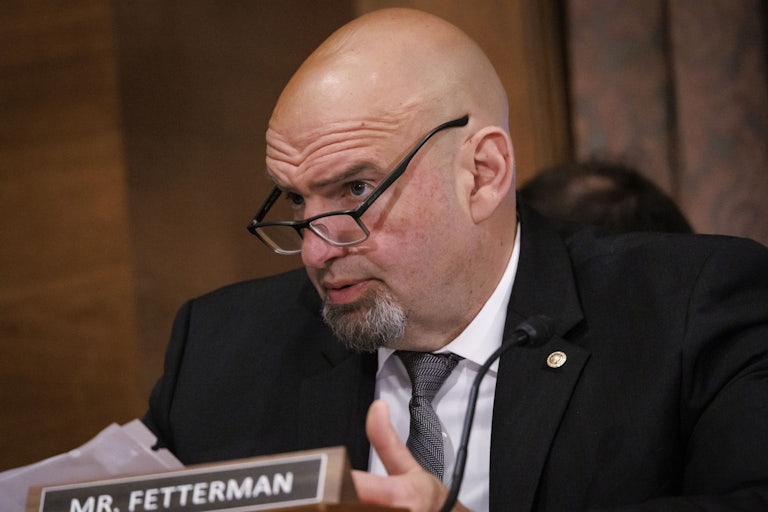 Ting Shen/Bloomberg/Getty Images
Pennsylvania Senator John Fetterman
During a Tuesday hearing on the failures of Silicon Valley Bank and Signature Bank, Pennsylvania Senator John Fetterman took the banks to task.
"Republicans want to give a work requirement for SNAP, you know, for a hungry family to have these kinds of penalties, or some kinds of working requirements. Shouldn't you have a working requirement after we bail out your bank?" Fetterman challenged Silicon Valley Bank President Greg Becker. "Because [Republicans] seem to be more preoccupied [with] SNAP requirements for hungry people, but not about protecting the taxpayers that will bail [out the banks]."
Fetterman's pointed question came in a larger line of questioning that pointed out the contradictions endemic within the American economy.
"Is it an inside joke that no matter how incompetent or how greedy, the government will always bail you out when your bank crashes?" Fetterman inquired. "Everyone has to realize that no matter how bad I behave, no matter how big my raise is, my bonuses and everything, we will come in and bail it," he continued, asking Becker if he believes it's all a "running joke in the circles of banking that 'no matter how bad we have, we are going to be saved.'"
"I don't believe that's the case," Becker responded.
"Really?" Fetterman said, incredulously. "Do you believe that that is not outrageous: that no matter how deplorable your performance is, you are made whole—all by taxpayers.… What if we didn't come out and bail out your bank, what would've happened?"
Becker answered by saying that their shareholders did lose their value, that he believes it was important to protect their clients, and that businesses would have been significantly impacted if they were not bailed out.
"Is it a staggering responsibility that the head of a bank could literally crash our economy?" Fetterman countered. "It's astonishing.… They also realize that now they have a guaranteed way to be saved," he continued. "Isn't it appropriate that this kind of control should be more stricter?"
Fetterman posed more and more questions challenging such a status quo—in which banks can make off just fine no matter their negligence, while taxpayers pay for the life-ring buoys while being subject to stricter requirements for benefits—to no answers.
"Thank you, Senator Fetterman; didn't see an eagerness on the panel to answer your questions, thank you," Senator Sherrod Brown concluded.