Kyrsten Sinema Thinks You Need Bougie Hotels and Limousines to Run a Marathon
And she's using campaign funds to expense it all.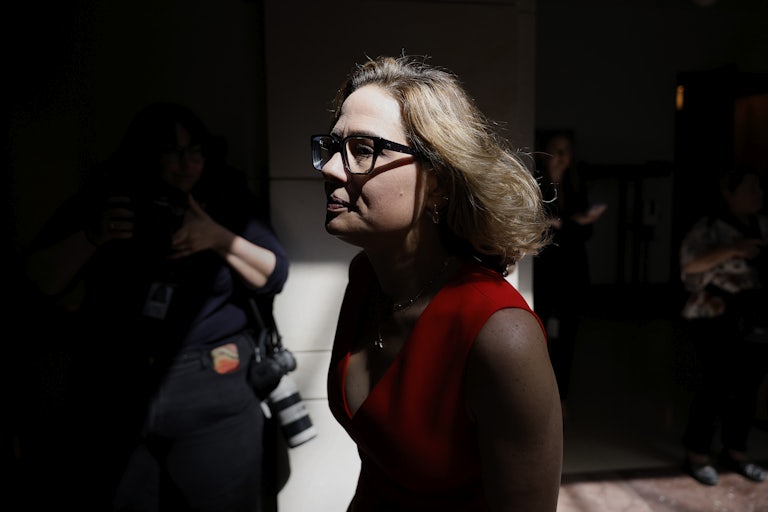 Chip Somodevilla/Getty Images
Senator Kyrsten Sinema has a history of making questionable choices for personal gain. And now she seems to be strategically planning campaign fundraisers to justify bougie travel and accommodation expenses for personal competitions.
A new report from The Daily Beast found that Sinema raised $16,000 in campaign donations from a small group of Massachusetts-based donors in April 2022. That same month, her campaign paid nearly $8,500 for a stay at the Ritz-Carlton. Though the campaign filing did not specify which Ritz location, Sinema tweeted a photo of herself and a friend posing in a Ritz hotel room after finishing the Boston Marathon.
And it's not the only time Sinema appears to have planned a fundraiser in the same place she was going to run a race. The Daily Beast found at least six other such instances since 2019, such as in May that year, when Sinema competed in a marathon in Ventura County, California. In the two weeks around the race, she raised $21,000 from PACs and donors in the state, while her campaign spent $400 on lodging in Santa Barbara.
Other campaign expenses include more than $5,200 on limo service in Boston in October 2021, when Sinema merely attended the Boston Marathon. She coincidentally held a fundraiser that month that raised $36,000 from Massachusetts donors.

The Federal Election Commission bars political candidates from using campaign funds for any expenses unrelated to running for or holding public office. By allegedly tacking fundraisers on to her race travel, Sinema is technically not breaking any rules. But her behavior is definitely shady.
"It is one thing to ask donors for money to support your campaign and get your message out to voters, it is another to ask them to bankroll your personal life," Brendan Fischer, deputy executive director for the watchdog group Documented, told The Daily Beast. But "if an officeholder is using donor dollars to subsidize their lifestyle or finance personal expenses, then campaign contributions pose a much greater risk of corruption."
Fischer also pointed out that athletes plan far in advance for big races, making it "highly unlikely that Sinema's fundraising activity was scheduled as the priority," according to the Beast.
We also already know that Sinema seems to prioritize her race training above everything else. Another Daily Beast report from December found that Sinema's training regimen appears to take up the bulk of her time. Citing an internal memo and anonymous former staffers, the report found that Sinema should be considered unreachable during her daily training sessions. Races are scheduled into her calendar, and she requires an hour-long massage and two 45-minute physical therapy sessions each week. Actual senatorial duties are confined to specific time blocks each week.
Sinema has proudly declared she doesn't stand for anything. She seems to have undergone a political 180 since reaching Capitol Hill, voting against measures she campaigned on, such as raising the minimum wage, and switching political affiliation to independent in what was widely seen as an attempt to improve her reelection chances.
So maybe it's not that she doesn't stand for anything. Maybe it's that Sinema only stands for herself.