"It's Cruelty": House Progressives Slam Debt Ceiling Bill as Vote Nears
"This never should have been the case in the first place," said Congressional Progressive Caucus Chair Pramila Jayapal.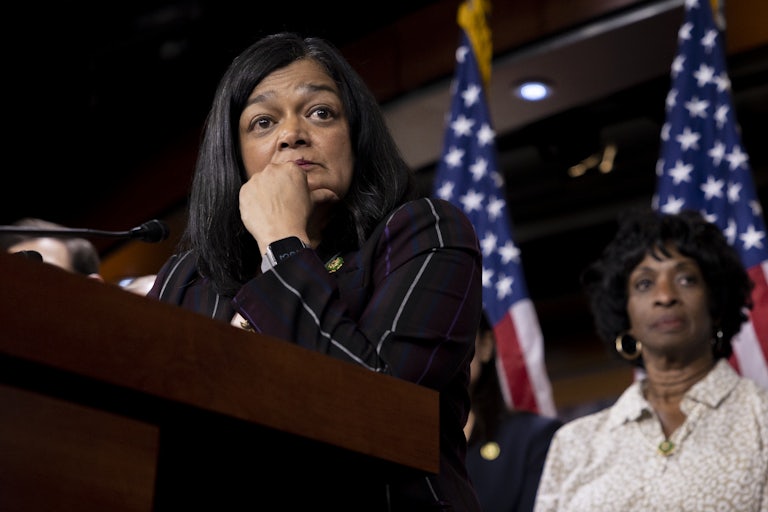 Nathan Posner/Anadolu Agency/Getty Images
Congressional Progressive Caucus Chair Representative Pramila Jayapal
White House and Republican negotiators seem confident that the new debt ceiling bill will pass, but it's going to be a long fight to get there.
At least 33 Republicans have already signaled they will vote against the bill, with several calling for Kevin McCarthy to be ousted from the speakership over the measure. And many progressives don't like the bill either.
Congressional Progressive Caucus Chair Pramila Jayapal told reporters Wednesday that she would vote "no" on the debt bill and implied that many other caucus members would do the same. She noted the Democratic caucus meeting had a somber tone because "people feel like this never should have been the case in the first place."
Representative Alexandria Ocasio-Cortez said earlier this month that she would "never" vote for legislation that included spending cuts to programs or lacked a "clean" debt ceiling, meaning an increase without conditions. Her office confirmed her stance on Tuesday. Representative Greg Casar told MSNBC he would also vote "no," describing the bill as a "ransom deal" and a "hostage situation."
Representative Ro Khanna said that he believed enough Democrats would back the bill so that the United States won't default, but "some of us are going to vote no on principle."
"We don't believe that you should be taking away food assistance from the most vulnerable when we have an affordability crisis, that you should be hurting people who are student loan borrowers," he told Morning Joe.
A big sticking point for progressives is the changes the bill would make to food assistance. The deal would impose work requirements for the SNAP program, or food stamps, and lower the number of people who qualify for work requirement exemptions. The bill would also change the Temporary Assistance for Needy Families program, potentially making it harder to get cash assistance.
Not only will all this make it harder for people to get food aid, but the Congressional Budget Office found that work requirements wouldn't actually help the deficit all that much.
Senator Elizabeth Warren slammed the bill for "demanding we pinch pennies" on food assistance and health care. "This is not fiscal responsibility. It's cruelty," she tweeted Tuesday.
Representative Cori Bush said she was "leaning" toward voting against the deal. "As somebody who was a food stamp recipient, there is absolutely no way I can see myself green-lighting something that will take food from people's mouths," she said.
Jim McGovern, a leading anti-hunger lawmaker in the House, put things the most bluntly: Republicans are cutting "funding that helps the most vulnerable in this country," he said. "Give me a goddamn break."
"Republicans are unfit to govern," McGovern said. "I didn't come to Congress to hurt people. And when I listen to my Republican friends, what is clear to me is that we don't share the same values."