Trump Whines About Being in Nazi Germany After Third Indictment
Trump was charged with trying to overthrow an election, but sure.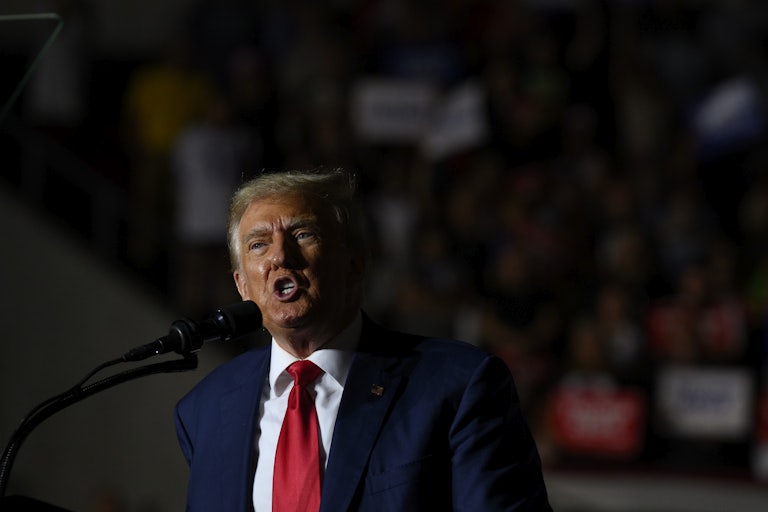 Jeff Swensen/Getty Images
Donald Trump was indicted Tuesday for a record third time, and you could say he seems to be taking it very well. If by "well," you mean "comparing being held accountable to the Holocaust."
Trump was charged for his role in the January 6 insurrection and other attempts to overturn the 2020 presidential election. He faces four counts that include conspiracy to defraud the United States, conspiracy to corruptly obstruct an official proceeding, obstruction of and attempt to obstruct an official proceeding, and conspiracy against the right to vote.
"This is nothing more than the latest corrupt chapter in the continued pathetic attempt by the Biden Crime Family and their weaponized Department of Justice to interfere with the 2024 Presidential Election," his campaign said in a statement on Truth Social.
"But why did they wait two and a half years to bring these fake charges, right in the middle of President Trump's winning campaign for 2024?" the statement continued.
"The answer is, election interference! The lawlessness of these persecutions of President Trump and his supporters is reminiscent of Nazi Germany in the 1930s, the former Soviet Union, and other authoritarian, dictatorial regimes. President Trump has always followed the law and the Constitution, with advice from many highly accomplished attorneys."
But if Trump has always "followed the law and the Constitution," then explain his ever-growing pile of legal troubles. The twice-impeached president has been charged with business fraud in New York for his alleged role in making hush-money payments to Stormy Daniels. He also has been charged with keeping national defense information without authorization, making false statements, and conspiring to obstruct justice.

Trump is likely to be indicted in Georgia in the next few weeks for his role in trying to overturn the 2020 presidential election—despite a failed attempt to block that probe. And he has been found liable of sexual abuse and defamation, and sued for defamation again.