The (Open)AI Apocalypse is Here
The ChatGPT developer is in chaos after the board dismissed its CEO on Friday.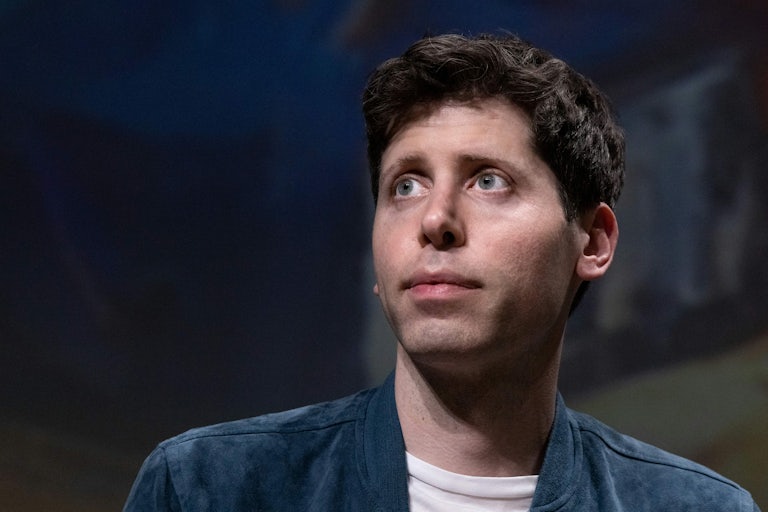 Photo by JOEL SAGET/AFP/Getty Images
Recently ousted OpenAI CEO Sam Altman
More than 70 percent of OpenAI's employees signed a joint letter on Monday demanding that the company's board of directors resign, capping a weekend fracas sparked by the board's spontaneous decision to oust co-founder and CEO Sam Altman over a video call during lunch on Friday. Company president Greg Brockman quit the following day after discovering he was being forced out of the board.

"Your actions have made it obvious that you are incapable of overseeing OpenAI," wrote 505 employees in a joint statement, notifying company heads that they intend to join Microsoft's AI division as a fallback. "We will take this step imminently, unless all current board members resign, and the board appoints two new lead independent directors, such as Bret Taylor and Will Hurd, and reinstates Sam Altman and Greg Brockman."
That demand for a mass resignation included the company's chief scientist, Ilya Sutskever, who helped orchestrate the coup against Altman.

"I deeply regret my participation in the board's actions," Sutskever posted on X, formerly known as Twitter, shortly after the letter was issued. "I never intended to harm OpenAI. I love everything we've built together and I will do everything I can to reunite the company."

Altman's dismissal followed a disagreement over the direction of the company's research division, led by Sutskever, reported CNN. Company heads have denied that narrative. In a Friday letter, the board claimed that Altman had to go because the executive "was not consistently candid in his communications with the board, hindering its ability to exercise its responsibilities."

OpenAI has scrambled to replace Altman since his firing, naming several interim CEOs throughout the weekend before landing on ex-Twitch CEO Emmett Shear, who is tasked with the awkward yet tall order of mending the torn relationship between the company's board, its employees, and its investors.

The company briefly entertained reinstating Altman before the Silicon Valley entrepreneur announced he had taken a job leading the in-house AI division at Microsoft, OpenAI's largest financial backer.

OpenAI is worth nearly $100 billion. Artificial intelligence's capabilities are currently more fantasy than reality, and yet programs like ChatGPT could prove to be among the most important technological developments of this era. The mess at OpenAI suggests that the people in charge of A.I. are barely capable of managing themselves, let alone a potentially transformative program.