Elon Musk Gets Booed Off Stage by Thousands of People at Dave Chappelle Show
The new Twitter CEO received a loud chorus of boos from the audience, leaving him unsure of what to say.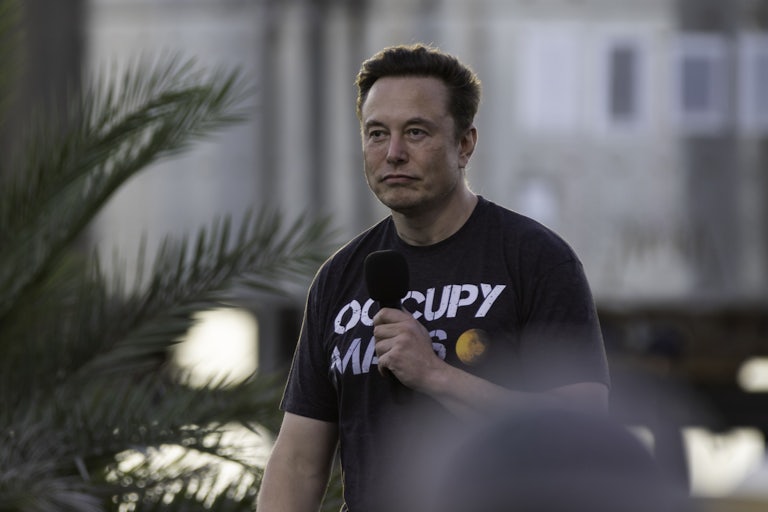 Michael Gonzalez/Getty Images
"Dave, what should I say?"

This is how Elon Musk waded into live comedy at Dave Chappelle's show in San Francisco Sunday night, after forcing his material upon every Twitter user for weeks. Musk—so used to encouraging cry-laughing emojis from his adoring fans online—learned that Twitter is sometimes not real life.
Musk's performance was doomed from the beginning, given how Chappelle introduced him. "Ladies and gentlemen, make some noise for the richest man in the world," Chappelle said, almost inviting boos from the 18,000-seater stadium.
Musk paced back-and-forth across the stage while Chappelle attempted to redeem the moment.

"It sounds like some of the people you fired are in the audience," he quipped. He could have left it at that. But alas.
"All those people who are booing, and I'm just pointing out the obvious, you have terrible seats," Chappelle said, falling on the sword for Musk by calling everyone booing poor.
Chappelle seemed to argue Musk is above the rest of us, so the booing wouldn't even faze him. "[He's] not even trying to die on Earth. His whole business model is fuck Earth, I'm leaving anyway," Chappelle said, instead tacitly admitting Musk's basic disregard for the planet we live on.
When Musk asked Chappelle what he should say, Chappelle seemed aware things were beyond rescuing. "Don't say nothing. It'll only spoil the moment," he said. "Do you hear that sound, Elon? That's the sound of pending civil unrest."
Years ago, Musk attempted to start a comedy "media empire" called Thud, which ironically is exactly the sound it made after it failed just over a year later.
That hasn't stopped Musk from trying. "Comedy is now legal on Twitter," he proudly proclaimed after he purchased the company. While his adoring fans will respond with glee to any of Musk's "jokes," we are already being assured that Sunday night's boos are not making Musk mad at all.