Elon Musk Can't Stop Lying to Tesla Investors
Tesla's stock is in a free fall, and the Chief Twit is not doing much to arrest the downward trajectory.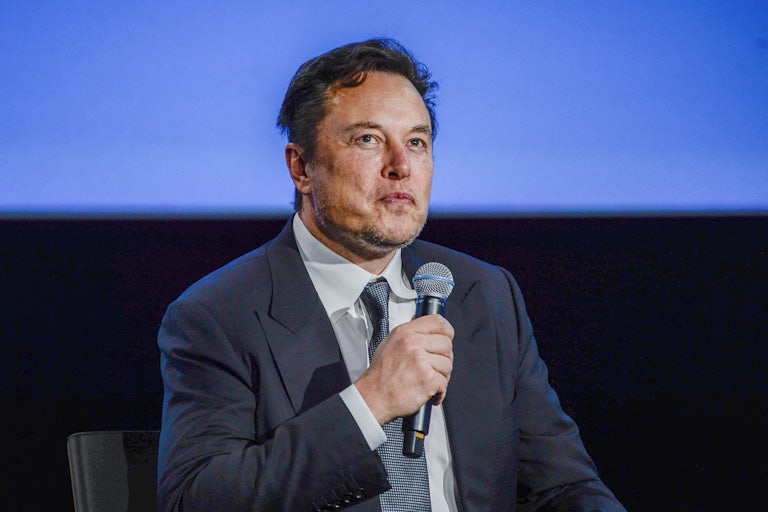 Carina Johansen/Getty Images
Since Elon Musk bought Twitter, Tesla's stock value has been cut in half. Musk's reckless behavior—from reinstating far-right radicals and banning journalists, to haphazardly laying off workers, posting Nazi pictures, encouraging people to vote Republican, and alienating advertisers galore—has played a large role in the dramatic free fall.
And it's not like Twitter is the only firm that's been inundated by Muskian chaos. Tesla has been embroiled in numerous legal and PR issues related to rampant sexual harassment and racism in factories, to the company's "self-driving" cars' apparent propensity to spontaneously combust or run into pedestrians. It's no surprise that investor confidence would be at an all-time low now that Musk's attention has been split between the two troubled companies.

Musk himself has a dwindling commitment to the company he took over in 2008. He has sold nearly $40 billion worth of Tesla stock in a little over a year, mostly to maintain Twitter's viability.

Naturally, this has all been to the detriment of those who still hold stock in Tesla. But in his attempts to massage those concerns, Musk has, in effect, been continually lying to investors, which in turn has only given these benefactors even more fodder to distrust Musk and flee the company.

Musk sold around $8.5 billion in stock in late April, pledging on April 29 "no further TSLA sales planned after today." It was a pledge he couldn't keep: On August 10, he sold another almost $7 billion. Once again he promised he was done selling, and once again, he reneged on that promise: On November 8, he sold some $4 billion; he cashed out another $3.6 billion on December 14.

In a Twitter spaces conversation on December 22, Musk pledged once again to stop the sell-off. "I won't sell stock until, I don't know, probably two years from now," he said. "Definitely not next year under any circumstances and probably not the year thereafter."

That someone as mercurial as Musk can be trusted to keep a commitment spanning the next two years is hard to believe, given his propensity for breaking promises—something that's ticked up to a weekly basis since he acquired Twitter.

Now, the share value of the venture that enabled Musk to burnish his reputation as a prodigal tech genius is falling, with no end in sight, all at the expense of the Twitter acquisition—a pursuit largely driven by Musk's hunger for attention, and his yearning to feel funny or well-liked.
If he's just in it for the comedy, Musk can rest well knowing that many are surely reveling in the laughable absurdity of it all. Meanwhile, those most invested in Musk's success—investors themselves—are perhaps reckoning with the idea that the best time to divest from Musk was probably yesterday. And that the next best time would be right now.