Three Things to Know About the Patriot Missile System Biden Plans to Send Ukraine
The United States is set to send a Patriot missile system to Ukraine, a major escalation in U.S. support for the country.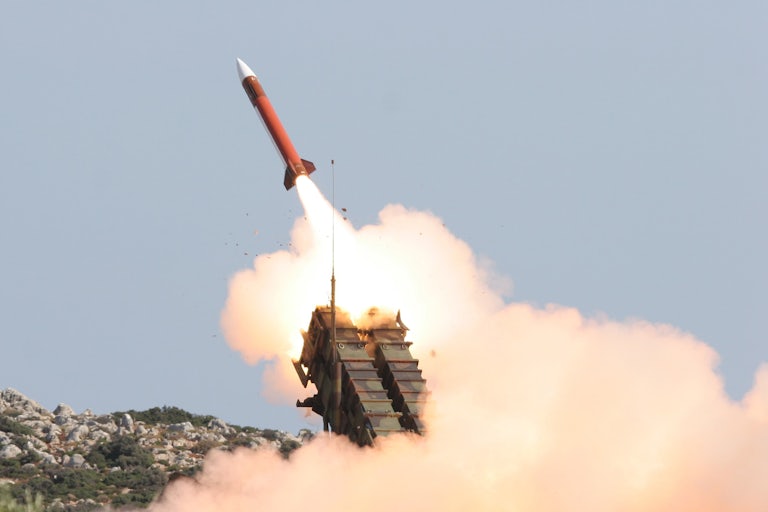 Peter Mueller/Bundeswehr/Getty Images
The United States will send $1.8 billion in military aid to Ukraine, including a Patriot missile system, the White House confirmed.
President Joe Biden is expected to formally announce the package on Wednesday in a joint press conference with Ukrainian leader Volodymyr Zelenskiy.
The Patriot system includes a missile battery and precision-guided bombs for Ukraine's fighter jets. Here are three things you should know about why the Patriot missiles are important.
1. What is the Patriot missile system?
The Patriot is a surface-to-air guided missile system capable of targeting aircraft, shorter-range ballistic missiles, and cruise missiles. The entire Patriot system includes radar, a control station, computers, and generators. It requires about 90 soldiers to operate and maintain, although only three are actually needed to fire it. The Patriot battery is a launching system that can be mounted on a truck and includes up to eight launchers, each of which can hold four missiles.
It's not clear when the Patriot will arrive on the front lines, because U.S. soldiers will have to train Ukrainian forces on how to use the missile system. The training is expected to take place in Germany and could take several weeks, according to the AP.

2. This marks a major escalation in U.S. aid to Ukraine.
Ukraine has repeatedly asked its Western allies to send more advanced weaponry to help it fend off Russian attacks. The Patriot is the most advanced surface-to-air missile system that the West has sent Ukraine to date.
Russia has already warned that sending the Patriot to Ukraine would be considered a provocation, opening up the missile system and any crew accompanying it as fair targets for Russian troops.
But the Biden administration is clear it does not want to escalate conflict with Russia. A senior administration official, speaking anonymously, told reporters Tuesday night that Biden wants to "lean forward and be robust in our support for Ukraine … but we are not seeking to engage in a direct war with Russia."
3. Will this turn the tide of the war?
Unfortunately, the Patriot is unlikely to deliver a decisive victory to Ukraine. Despite its high-tech status and military benefits, it does have its shortcomings.
A former senior military official, speaking anonymously, told the AP that the Patriot system is highly symbolic and will be useful against short-range ballistic missiles, but it won't immediately turn things around.
The Patriot system has a long firing range but limited scope. Usually, Patriots are deployed in a group, but Ukraine is only receiving one. That means the Patriot will be able to protect a military base or part of a city, but it won't be able to defend an entire city such as Kyiv, which has been under heavy aerial attacks targeting the capital's energy grid.
The system would be able to detect and destroy certain ballistic missiles and aircraft, should Moscow launch such an attack on Kyiv, but Russia has lately favored smaller (and cheaper) drones. Using a Patriot missile to take down drones would be neither cost-effective nor efficient.