Three Incredibly Popular Things That Congress Chose to Leave Out of the Spending Bill
U.S. lawmakers unveiled a sweeping $1.7 trillion government spending bill. Still, they managed to exclude some popular provisions.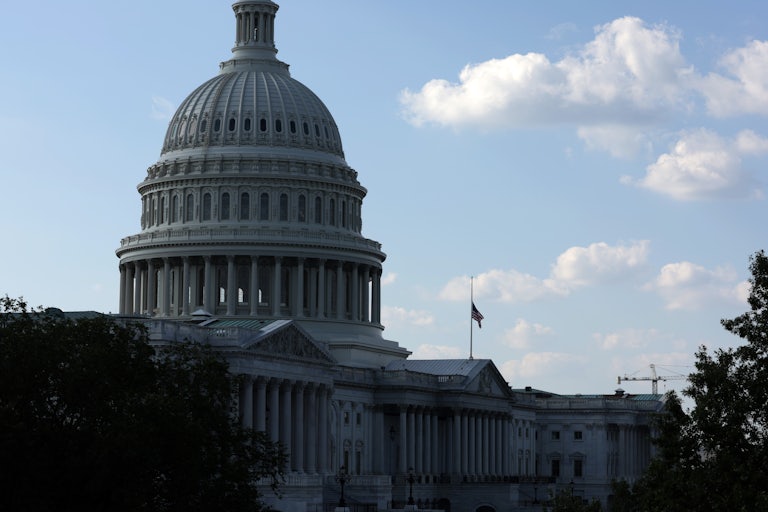 Alex Wong/Getty Images
U.S. lawmakers unveiled the massive omnibus bill early Tuesday. The spending bill lays out the federal budget for 2023.
The $1.7 trillion package is expected to pass both chambers by Thursday and then be sent to President Joe Biden's desk for his signature the following day, just before the current budget expires.
Here are three major things that the bill has left out.
1. Drug reform
Two measures seeking to reform marijuana and cocaine policy have been left out of the omnibus, despite bipartisan support for both.
Congress had sought to allow cannabis companies to open bank accounts. Since marijuana is currently illegal under federal law, most banks won't take a dispensary's deposits, forcing the businesses to operate on a mostly cash basis. As a result, weed stores are prime targets for robberies.
But despite bipartisan and banking industry support for the act, senior Senate Republicans shot it down. This comes as a heavy blow to Biden's efforts for cannabis reform. In October, the president pardoned thousands of people convicted of marijuana possession and said his administration would review how the drug is categorized.
The second measure, the EQUAL Act, was aimed at reducing the disparity in sentencing for crack versus powder cocaine offenses. Current laws for crack cocaine are much stricter: An individual needs to possess 500 grams of powder cocaine to trigger the five-year mandatory sentence, but only 28 grams of crack. These rules disproportionately affect people of color.
The act would have evened out the amount of powder and crack cocaine needed to trigger the minimum sentence, but despite having 11 Republican Senate co-sponsors, it failed to make the omnibus.
2. The Afghan Adjustment Act
The omnibus also leaves out the Afghan Adjustment Act, which would have expanded the special immigration visa program to help people fleeing Afghanistan and created a path to permanent residency for those already here.
Tens of thousands of Afghan refugees in the United States are at risk of deportation because they have a temporary status known as "humanitarian parole." The act would have helped those people stuck in legal limbo and aided many more U.S. allies still trapped in Afghanistan. Former U.S. military officials urged Congress to pass the act.

The act had bipartisan support, but not a filibuster-proof majority, and it stalled for months in Congress. And now it hasn't even made the mega-spending package.
Advocates are now hoping Senator Chuck Schumer will bring it for a floor vote as a standalone amendment.
3. The Child Tax Credit
The omnibus does not revive the expanded Child Tax Credit, which helped lift millions of children out of poverty over the past year.

The CTC was dramatically expanded in the first months of the Biden administration. Up to $3,600 per child was delivered to parents—including to households that were previously ineligible because they had no income—and helped cut the national child poverty rate nearly in half.
But those benefits expired last December, and roughly four million kids fell back into poverty.
The $12 billion act to revive the CTC is a tiny fraction of the overall bill and the massive defense budget that Republicans demanded. Democrats had indicated they were willing to compromise on an array of corporate tax cuts that the GOP wanted in exchange for the CTC, but Republicans were unwilling to negotiate.