MrBeast's Gift of Vision Is Nice! But One Guy Shouldn't Have To Do It
The popular YouTuber released a new video giving 1,000 blind people cataract surgery to restore their vision. Access to life-changing procedures like this shouldn't be dependent on the goodwill of others.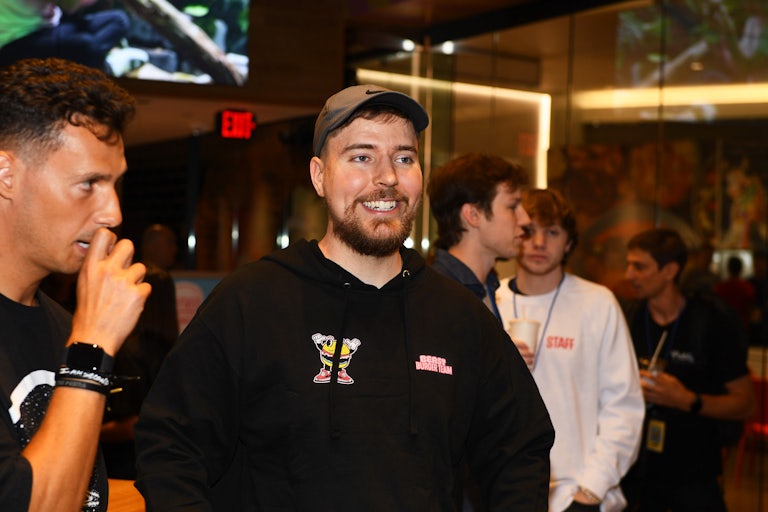 Dave Kotinsky/Getty Images for MrBeast Burger
It's really great when people's lives are made better, but mass uplift should not be subject to the goodwill or charity of a few. This is the major takeaway of a new viral video of MrBeast's latest charitable act.
On Saturday, MrBeast, the YouTuber with a whopping 236 million subscribers, posted a video titled, "1,000 Blind People See For The First Time."

Jimmy Donaldson, a.k.a MrBeast, begins the video by saying that 200 million people worldwide suffer from impaired vision. "They can't see. But we have all the technology to fix it." Ophthalmologist Jeffrey Levenson, who joined Donaldson, says that half of all cases of blindness in the world consists of people who need a 10-minute operation, a cataract surgery that vacuums out a cloudy lens in an eye and replaces it with an artificial one. With this context, Donaldson provides the quick operation to 1,000 individuals across the world, even giving some patients additional sums of money or cars as goodwill gifts.
As far as content creation goes, this is simply just a nice thing to do; MrBeast has accumulated inordinate amounts of wealth from his massive platform and is using it to help other people. There's a discussion to be had about so-called "poverty porn," in which forms of media exploit one's poor conditions in order to generate attention. On a larger scheme, out of all the malicious ways people use and exploit others' emotions online, this video perhaps isn't too reproachable, particularly given MrBeast, at this point, has no issue garnering viewers. He is the fourth–most subscribed account on YouTube and the most popular individual account.
But the on-the-surface heartwarming story also reveals how dependent we are as a society on charity to improve people's material conditions.
Not only does cataract surgery take a matter of minutes, as MrBeast's video points out, but the life-changing operation also can cost as little as $25. Yet still, people are left paying hundreds, and more often thousands of dollars for such surgeries, especially for those who are uninsured.
MrBeast himself, not known by any means as a crusading socialist, understands this:

Though he also frames the contradiction, perhaps sincerely or perhaps to appease his broader audience in terms of market logic, MrBeast still communicated to his many fans what we all know to be true: such conditions are incomprehensible.
And so, it would be worthwhile to avoid any overscrupulous analysis of what MrBeast's latest act of charity represents: the good nature of people, and why we should seek to embrace and imbue that nature into our systems, rather than restrict it to only existing in individuals.