Utah Could Soon Require Schools To Teach That the U.S. Economy Is Globally "Superior"
A proposed change would teach kids how the free market "made America the most free and prosperous country in the world."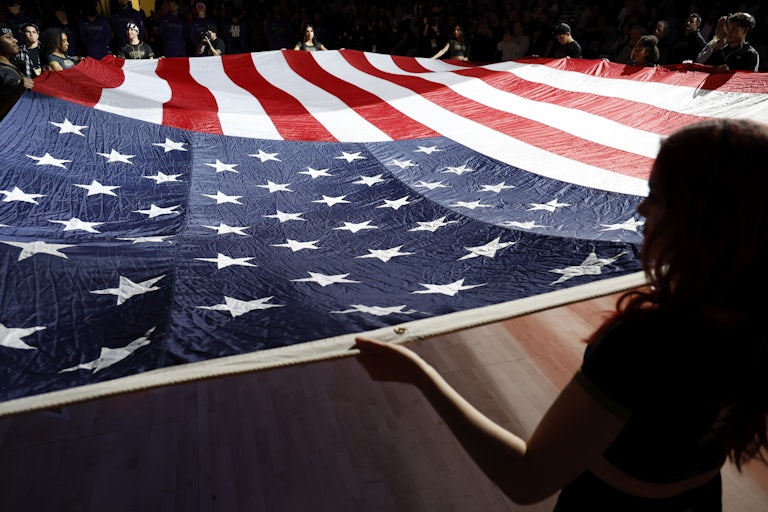 Ronald Cortes/Getty Images
The Utah board of education is considering requiring teachers to tell students that the American economic system is "superior" to the rest of the world.
The state board is meeting all day Thursday to review budgets and changes to curriculum. One such change is to the state's financial literacy course, which would require the course to "explain why free market systems are superior and have made America the most free and prosperous country in the world."
This statement, proposed by Republican board member Natalie Cline, is both technically incorrect and also bordering on propaganda.
Many economists argue that the United States is actually a mixed economy, not a free market, because of corporate monopolies and the government's ability to intervene. The U.S. also ranks twenty-seventh in the world in terms of economic freedom.
But more importantly, the sentence is incredibly hyperbolic and reeks of an attempt to brainwash people into ardent patriotism. It smacks of former President Donald Trump's penchant for hyperbole.
It's unfortunate, since financial literacy is a hugely important life skill that isn't taught widely enough. Only 27 states require schools to offer similar courses.
The proposed changes are also part of a nationwide trend of states, particularly ones with Republican leadership, clamping down on "wokeness"—that is, critical and liberal thinking. One of the most egregious examples is Florida, where this week alone the president of the New College was ousted by allies of Governor Ron DeSantis and replaced with another, and DeSantis announced he intends to dismantle diversity, equity, and inclusion programs on college campuses. Also this week, the College Board watered down the curriculum for its A.P. African American studies class after facing right-wing backlash.
Cline seems to be part of this trend. She has come under fire for spreading the conspiracy that critical race theory is being taught in elementary school classrooms. In February 2021, there was an unsuccessful petition to remove her from the state board of education for calling LGBTQ children "gender-confused" and referring to the LGBTQ community and Black Lives Matter movement as "indoctrination."