Benjamin Netanyahu Says Not To Get "Hung Up" On Peace
In an interview strung with falsehoods and redirects, the Israeli prime minister told CNN's Jake Tapper that he'll "circle back" to the Palestinians.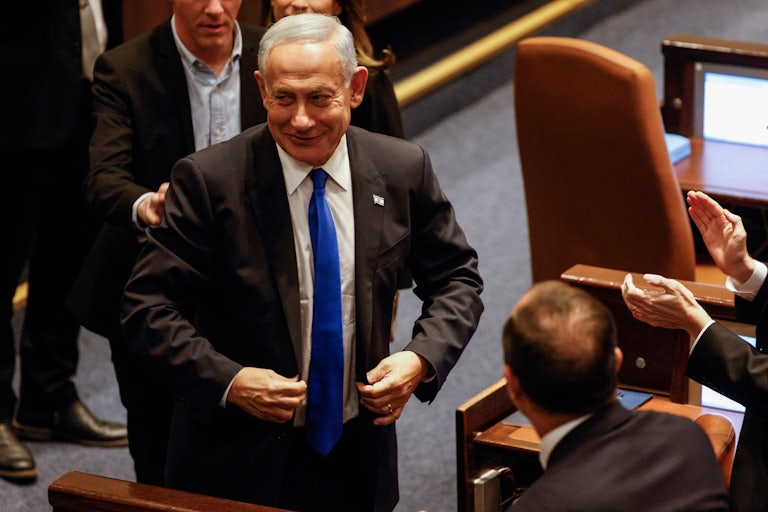 AMIR COHEN/POOL/AFP/Getty Images
As Israel continues to escalate its violent campaign against Palestinians, Israeli Prime Minister Benjamin Netanyahu joined CNN's Jake Tapper for an interview, in which the Israeli prime minister said he is not going to be bothered to get "hung up" on peace with Palestinians.
"If we wait for them, we're not going to have peace," Netanyahu said in the interview Tuesday evening, describing his plan to instead focus on other nations like Saudi Arabia first. "I think we'll circle back to the Palestinians and get a workable peace with the Palestinians."
In other words, Netanyahu's grand master strategy is to delay addressing the devastating crisis Palestinians face, brought by the actions of the government he leads, because apparently Palestinians aren't ready to come to the table to negotiate on not being occupied.
"I went around them (Palestinians). I went directly to the Arab states and forged, with a new concept of peace … I forged four historic peace agreements: the Abraham Accords," he said.
When Tapper asked Netanyahu whether would be willing to give the right to vote to people residing in the West Bank or East Jerusalem, Netanyahu dodged the question and said he's "willing to have them have all the powers that they need to govern themselves, but none of the powers that threaten us."
Netanyahu also streamed lie after lie as he attempted to justify his proposal to weaken the Israeli judiciary by allowing a simple majority in the Knesset to overturn any Supreme Court decision. This would subject an independent supreme court to the party in power (thus making it no longer an independent).

Israel is currently led by the furthest right government ever, so such a plan would be all the more convenient for Netanyahu—especially as he himself seeks to evade accountability from his own corruption trial. Netanyahu's justice minister, Yariv Levin, told the Israeli Knesset two weeks ago that the charges against Netanyahu "contributed to a very broad public understanding that there are failures that need to be corrected" in the judicial system.
The United States certainly has its own role in affirming Netanyahu's nonsense. Beyond sending billions of dollars in military aid to Israel, the U.S. simply fails to recognize the humanity of Palestinians. Last week, Vedant Patel, spokesman of Biden's State Department, refused to acknowledge that Palestinians are occupied. Israeli forces killed at least 35 Palestinians in just the first month of 2023.