Donald Trump Can Be Sued for Inciting January 6 Riot, Justice Department Says
Trump cannot claim presidential immunity from lawsuits filed against him by Capitol Police officers and House Democrats.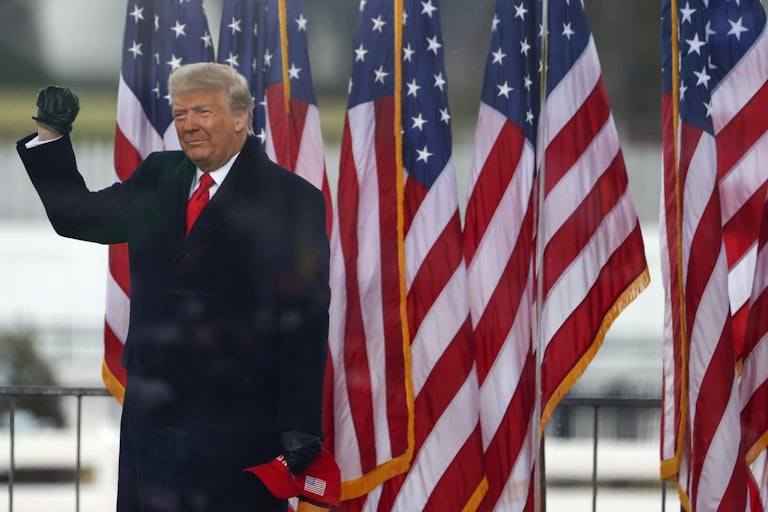 Tasos Katopodis/Getty Images
President Donald Trump is not entitled to immunity from civil lawsuits over his role in the January 6 insurrection, the Department of Justice said Thursday.
Two Capitol Police officers, backed by 11 Democratic House members, have sued Trump for physical and psychological injuries they suffered during the riot. The suit was brought under a statute that allows for damages to be paid when force, threats, or intimidation are used to prevent government officials from doing their job. Trump has argued that he is protected against the suit by presidential immunity.
But the Justice Department disagreed. "Speaking to the public on matters of public concern is a traditional function of the Presidency, and the outer perimeter of the President's Office includes a vast realm of such speech," attorneys for the department's Civil Division said. "But that traditional function is one of public communication. It does not include incitement of imminent private violence."
A U.S. district judge had found in February 2022 that Trump could be sued, and the former president's lawyers appealed the decision. The appeals court debated the case in December and ultimately asked the Justice Department to weigh in.
A dozen former White House and Justice Department officials from Democratic and Republican administrations had already called for the court to reject Trump's immunity argument, saying it was "the rare but clear circumstance in which a President broke the law while acting well beyond any official capacity."
Another group of Capitol Police officers have sued Trump in a separate case for inciting the insurrection, as have D.C. police officers. The partner of Brian Sicknick, a Capitol Police officer who died after being brutally attacked by rioters, has also sued Trump, as well as two members of the mob.

Capitol Police officers have made it clear they hold Trump and other Republican leaders accountable for the deadly riot, as well as for law enforcement's lack of preparedness on the day.