"Unnecessary and Cruel": Georgia Senate Passes Bill Banning Gender-Affirming Care for Trans Kids
The bill now goes to the desk of Republican Governor Brian Kemp.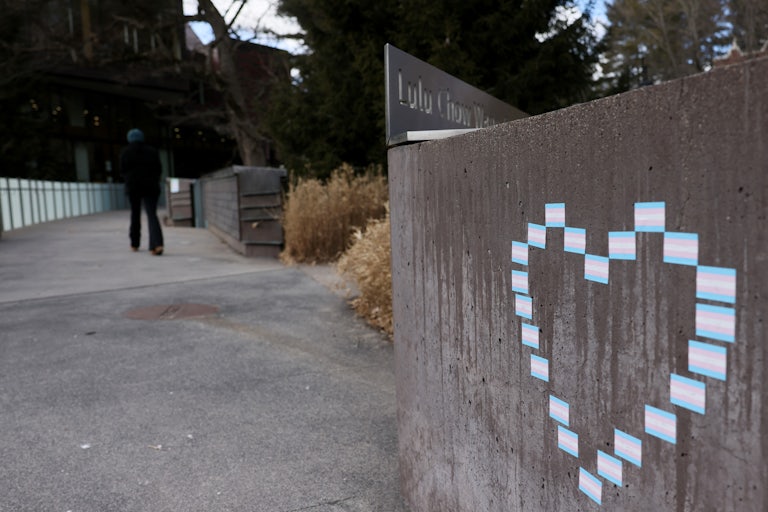 Jessica Rinaldi/The Boston Globe/Getty Images
A heart made from transgender flag stickers
The Georgia Senate passed a bill Tuesday banning gender-affirming care for minors and criminalizing medical workers who provide that care.
The bill passed by a vote of 31–21 and now goes to Governor Brian Kemp, who is likely to sign it. The measure passed the state House of Representatives last week.
If it becomes law, the bill will ban hormone therapy and transition-related surgeries for anyone under the age of 18. It was amended in the House to include civil and criminal penalties for health care workers who provide gender-affirming care.
The Human Rights Campaign condemned the bill as "unnecessary and cruel."
"When medical associations representing 1.3 million doctors say that age-appropriate, gender-affirming care is medically necessary for trans and nonbinary youth, who are these politicians to say that they know otherwise?" HRC State Legislative Director and Senior Counsel Cathryn Oakley said in a statement.
"These extremist lawmakers have been told what this harmful bill will do, and now the families of transgender youth in Georgia will be the ones who have to live with the consequences. This is cruel and unconscionable legislation, designed only to hurt marginalized kids."
Major medical organizations, including the American Academy of Pediatrics, support giving gender-confirming care to children, deeming it medically necessary and even lifesaving.
The cruel irony of Georgia's bill, part of a nationwide effort by Republicans to curtail LGBTQ rights, is that its supporters insist they are protecting children. But gender-affirming care actually decreases the amount of depression and anxiety that trans and nonbinary teenagers feel. It also makes them less likely to consider suicide.
What's more, by targeting LGBTQ people through legislation, Republican lawmakers are only demonizing the community and exposing them to more violence and hatred.
Kemp has not commented recently on the gender-affirming care ban, but he has previously signed a law banning transgender girls from playing girls' sports.