Los Angeles School Workers Begin Strike, Shut Down Second Largest District in the Country
The strike halts classes for more than 566,000 students in California.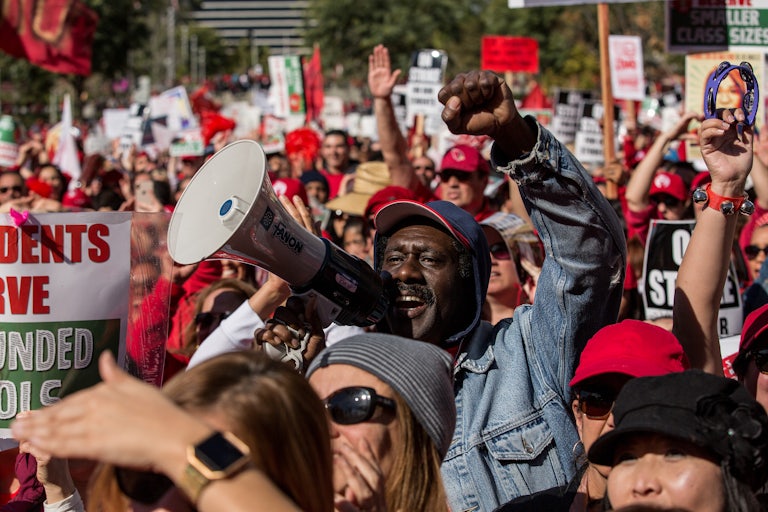 Scott Heins/Getty Images
On Tuesday, a union representing 30,000 Los Angeles school custodians, cafeteria workers, bus drivers, special education assistants, and other school staff members began a three-day strike, halting classes for more than 566,000 students.
Members of the Service Employees International Union, or SEIU, Local 99 are conducting the strike after almost a year of negotiating with the Los Angeles Unified School District. Local 99 members currently make an average salary of $25,000, with many of them working part-time. Workers are asking for increased hours for part-time workers, a 30 percent wage increase, and a $2 per hour additional raise for the lowest-paid among them. The living salary for a single adult—not even with a child—in Los Angeles is around $44,000.
Members of United Teachers Los Angeles, or UTLA, a union representing some 35,000 teachers, are also striking in solidarity with the workers. The UTLA is separately undergoing its own contract negotiations; the union terminated its contract with the district earlier in March, so members have more freedom to stand alongside their SEIU comrades. Teachers are seeking raises of about 20 percent, and more resources to support students, including for immigrant students and high-need community schools.
Los Angeles teachers had previously conducted a strike in January 2019, shutting down classes for six days. The teachers were demanding smaller class sizes, increased staff, and higher wages. Such demands have been sweeping across the country from West Virginia and Oklahoma to Arizona and Colorado, as teachers grow tired of having to work multiple jobs, pay for some of their own supplies, and watch poorly funded schools fail their students.