MAGA's New Culprit in Carlson's Firing: RINO Globalist Paul Ryan!
The conspiracy theories are running rampant.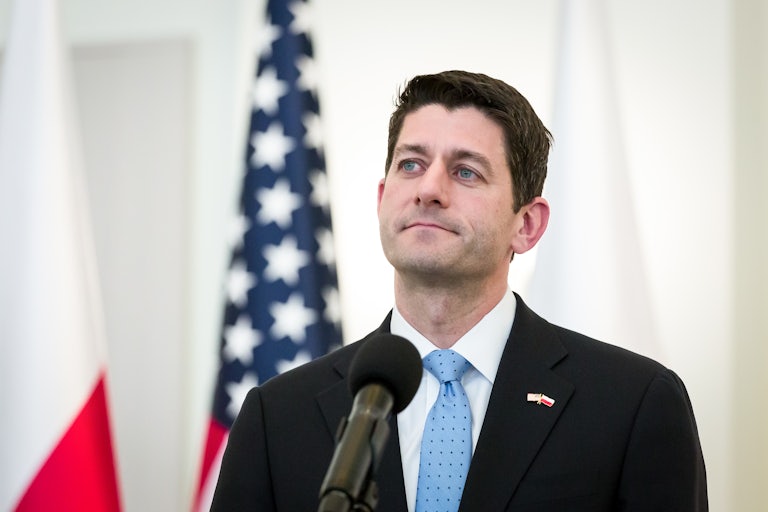 Mateusz Wlodarczyk/NurPhoto/Getty Images
First, it was Representative Alexandria Ocasio-Cortez. Now the far right is blaming Paul Ryan for Tucker Carlson's sudden departure from Fox.
Ryan is one of eight members of Fox's board of directors. While there has long been some latent far-right disdain for the former Republican House speaker, the new conspiracy theory around Carlson revolves around Ryan's disinterest in disputing the 2020 election results.
Some on the right point to court documents revealed during the Dominion v. Fox defamation lawsuit as proof of Ryan's offense.
Fox "should not be spreading conspiracy theories," Ryan allegedly told Rupert and Lachlan Murdoch. Ryan believed that the theories were "baseless" and that Fox "should labor to dispel conspiracy theories if and when they pop up."
Such beliefs apparently incriminate Ryan. Perhaps the most offensive thing he said? That Fox should "move on from Donald Trump and stop spouting election lies."
And that explains pretty concisely why the far right is embracing the theory: because they themselves still believe the 2020 election was stolen. Never mind that Fox coughed up $787.5 million to Dominion to stop further inquiry into the network's lies about the company.
The Ryan conspiracy theory has metastasized into tangential strains. For instance, just as Fox has been infiltrated by RINO-ideology, so apparently has the Ronald Reagan Presidential Library:
Or, more readily, the whole thing is about the conservative establishment getting behind Ron DeSantis (despite his having barely a handful of endorsements from Republican establishment elected officials, while Trump has now locked up over 60):
Again, the far right is assailing Ryan for the high crime of thinking that maybe Fox shouldn't spread lies about the 2020 election. It could very well be that Ryan thought Carlson was bad for the network—though given that numerous hosts were spreading lies about the election, some even more than Carlson, Ryan would've had to clean out the whole house. And that's assuming Ryan was somehow influential enough to do so at all. Whatever decisions were made by the higher-ups to let go of Carlson, it certainly took more than the complaints of one Paul Ryan.