CNN Trump Town Hall Audience Was Told "Please Do Not Boo"
If CNN really wanted to know what Republican voters think of Trump, why did it set rules like this?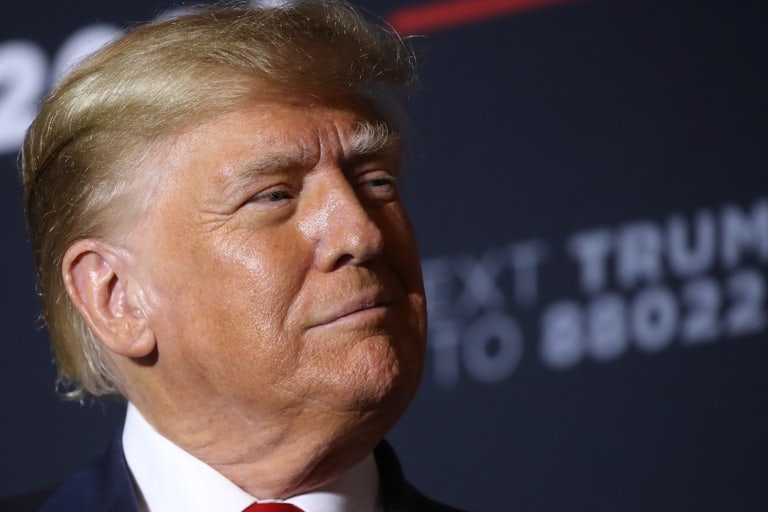 Spencer Platt/Getty Images
Apparently CNN told the audience of its diet Trump campaign rally that they could definitely applaud but they absolutely could not boo.
CNN has been catching rightful flak—even internally—for hosting its absurd town hall event with twice-impeached, criminally indicted former President Donald Trump one day after he was also found liable for sexual abuse and defamation.
And now it seems that CNN somehow found a way to make it all worse.
Puck reports that before the town hall, CNN entreated the audience: "Please do not boo, please be respectful." They were however allowed to applaud.

Such instruction, beyond the possibility that CNN did not actually try to get a balanced audience of Trump supporters and genuinely "undeclared" voters, may explain why the town hall appeared more like a Trump lovefest and less like an earnest exploration of whether a criminal and sexual abuser deserves to be president (this is needlessly generous: The answer is "no").
Those defending CNN's town hall—like Anderson Cooper—argue that the audience represented half the country (fact check: false; only 74 million people, or 22.5 percent of America, voted for Trump in 2020). But not every single one of them would have approved of Trump smearing the woman he was just found liable for sexually abusing and defaming, doubling down on the radical election lies that have only dampened Republicans' performance since, or saying more lies than truths in such a short amount of time.
But we didn't get to hear if the audience opposed any of this, because CNN didn't let them express it.
The defenses of the town hall assume we have no awareness of who Trump is and what many of his supporters have tolerated, if not actively encouraged. But what many, not least myself, actually have no awareness of is why a news network would so eagerly host a farcical event under the guise of holding power to account and then beg the audience only to cheer for the power in question.