Ob-Gyns Say More People Are Dying Since Dobbs Overturned Right to Abortion
A new KFF poll finds health professionals are incredibly concerned about the restrictions on abortion.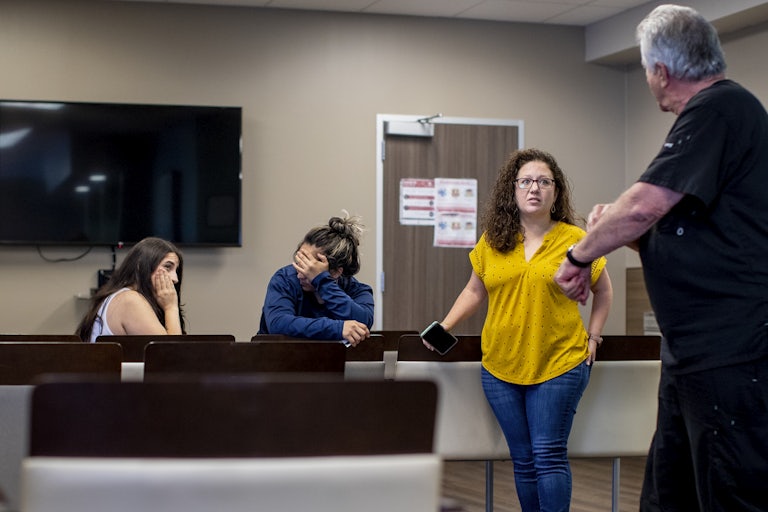 Gina Ferazzi/Los Angeles Times/Getty Images
A doctor at a clinic in San Antonio, Texas, informs a patient that he can no longer provide abortion services since the Supreme Court just overturned Roe v. Wade, June 24, 2022.
Health professionals say that maternal mortality has skyrocketed in the year since Roe v. Wade was overturned, a new survey from KFF found, a sign of how harmful abortion bans are.
The Supreme Court rattled the country when it rolled back the nationwide right to abortion on June 24, 2022. In the year since then, Republican-led states have cracked down on abortion access, imposing confusing restrictions or outright bans on the procedure. Many in the GOP argue that they are not limiting access to medically necessary procedures, but instead are saving lives.
KFF surveyed nearly 600 ob-gyns nationwide from March to May, and found that 68 percent say the Dobbs v. Jackson Women's Health Organization decision worsened their ability to respond to pregnancy-related emergencies. The survey also found that 64 percent of ob-gyns "believe that the Dobbs decision has worsened pregnancy-related mortality" and 70 percent believe the ruling increased racial and ethnic inequities in maternal health.
Part of this could be due to the fact that all of the new laws surrounding abortion have left doctors confused about what they're even allowed to do. Only 45 percent of ob-gyns in states with abortion restrictions say they understand the circumstances under which abortion is legal.
Many doctors also feel that their hands are tied. In states where abortion is limited, 59 percent of ob-gyns say they are worried about the legal risk when making "decisions about patient care and the necessity of abortion." In states where abortion is banned, that number jumps to 61 percent.
The United States already has the worst maternal mortality rate among developed nations, and health experts have long warned that abortion restrictions would only cause it to rise. A study released in November by researchers at the University of Colorado Boulder found that if abortion is banned nationwide, maternal mortality will rise 24 percent. Maternal mortality among Black people will shoot up 39 percent.