After Deadly UVA Shooting, Republicans Are Really Worried About … the Pride Flag in Schools
The far-right account Libs of TikTok is at it again.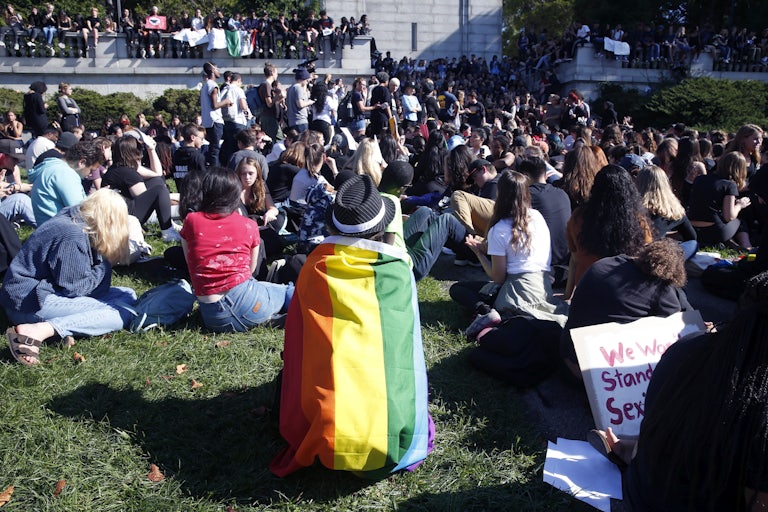 Paul Chinn/The San Francisco Chronicle/Getty Images
Despite the fact that a University of Virginia student opened fire on his former football teammates over the weekend—the latest in a grim trend of U.S. school shootings—somehow guns are not what Republicans are worried about in schools.
The far-right account Libs of TikTok tweeted a photo Monday of an LGBTQ pride display in a Georgia middle school, along with the fearmongering caption: "Imagine walking into your child's school and seeing this."
Social justice activist Matt Bernstein snapped back that there might actually be something a little more frightening.
According to the Gun Violence Archive, there have been at least 115 gun-related incidents that resulted in a minimum of one person dying or being injured at or near schools this year. That includes suicides on campus.
Of those 115 incidents, 12 were mass shootings, which the Gun Violence Archive defines as shootings with at least four victims either injured or killed.
Those mass shootings include the horrific massacre at an elementary school in Uvalde, Texas (22 dead, 17 injured); an attack on a graduation ceremony in Hot Springs, Arkansas (one dead, four injured); another on a high school in St. Louis, Missouri (three dead, four injured); and Sunday's shooting at UVA.
The shooter, a former football player, opened fire on the team as they were returning from a game. Three players were killed and another two students wounded. The shooter was charged Monday with three counts of second-degree murder and three counts of using a handgun in the commission of a felony.
The U.S. has a long history of gun-related violence, but tighter regulations have been slow to materialize. Congress passed a landmark bipartisan gun-control law over the summer, but it has many opponents, including on Capitol Hill.
More on Anti-LGBTQ Fear-Mongering