Well, Well, Well: Republicans Suddenly Care About Early Voting
RNC Chair Ronna McDaniel wants to make this a big part of Republicans' 2024 strategy.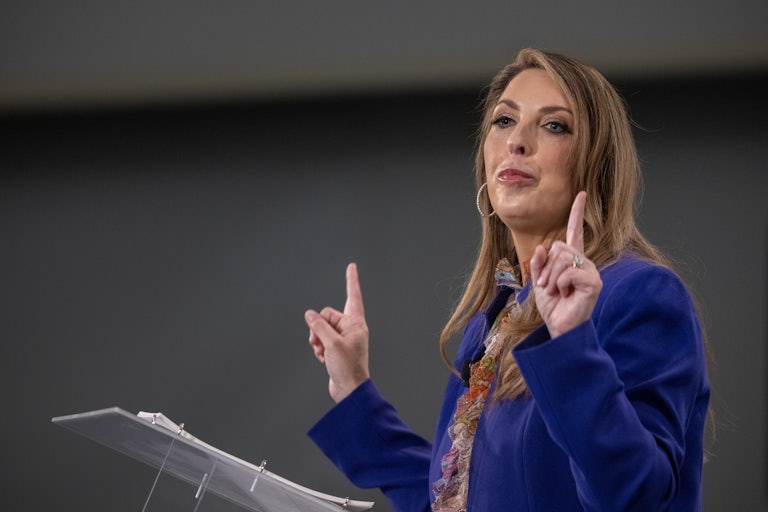 David McNew/Getty Images
RNC Chair Ronna McDaniel
With the 2024 election cycle kicking off, Republicans have announced a new strategy: early voting.
The GOP has vehemently opposed early voting, and expanded voter access in general, for some time, with former President Donald Trump renewing the charge. Republicans across the country moved to restrict access to early voting after a surge during the pandemic.
But on Wednesday, Republican National Committee Chair Ronna McDaniel revealed the party's new plan for the upcoming election cycle. "In addition to protecting the vote, we need you to bank your vote," she said in a video message.
"To win close elections, we need to close the gap on pre–Election Day voting," she said.
The shift in favor of early voting began in December, following Republican Senate candidate Herschel Walker's loss in Georgia (as well as a series of other embarrassing losses in the midterms). McDaniel also began pushing back on party members who opposed early and mail-in voting.
"There were many in 2020 saying, 'Don't vote by mail, don't vote early,'" she told Fox News after Walker's defeat. "And we have to stop that and understand that if Democrats are getting ballots in for a month, we can't expect to get it all done in one day."
McDaniel's staff insisted she wasn't referring to Trump, but it's hard to think who else she could have been talking about. Trump is one of the leading voices still falsely claiming that mail-in voting leads to fraud. He has repeatedly urged his supporters to watch ballot boxes, leading to multiple accusations of voter intimidation during the 2022 election.
Early voting is important, and a useful tool in elections, but the bigger issue is that Republicans aren't focusing on policies that people actually care about. For instance, they have embraced extreme stances on abortion that most people oppose. The GOP also talks a lot about fighting "wokeism," when many voters want politicians to focus on the economy or climate change.
It's similar to the time after the 2022 midterm elections, when record-high numbers of young voters turned out for Democrats. The Republican response was to demand raising the voting age, instead of looking at the issues important to Gen Z.