GOP Congressman Says It's Too Soon to Talk About Climate Change, Amid Raging Wildfires
Stop politicizing the weather, says man whose state is living under an air quality warning.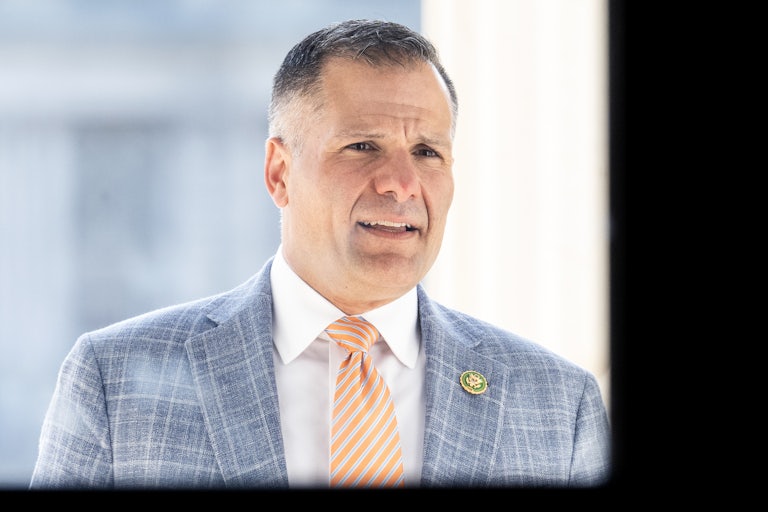 Tom Williams/CQ-Roll Call, Inc/Getty Images
More than 100 million people are under air quality alerts, with numerous American cities experiencing among the worst air quality in the world, as heavy, hazardous smog from raging Canadian wildfires swallows much of the United States. And while people are putting their masks on to navigate their new reality, a Republican has come out to bravely say it's too soon to talk about climate change.
"AOC can save her lecturing for the floor of the House," New York Republican Marc Molinaro said on Fox. "Right now, there are countless firefighters, there are families being impacted, senior citizens, folks with respiratory issues," he continued, listing off a laundry list of people his party has left behind by not caring about environmental protection. "There is little question that Canada obviously needs to focus on forest management, but this isn't the moment to start lecturing people about the science of climate change. Right now it's about putting out a fire and keeping people safe," he finished, as if honoring the science of climate change is not intrinsically part of keeping people safe.
Note that Molinaro's own state, New York, has among the worst air quality in the world right now. His district (one that Biden won) also includes much of the state's most beautiful areas: the Catskill Mountains, the Hudson Valley, and parts of the Finger Lakes. And yet voicing concerns about how we are degrading these landscapes, and harming our people's health, is "lecturing" to this New York Republican.
It's almost comical the extent Republican politicians will go to deny reality. It's not enough to cast doubt on the broader scientific fact about human-induced climate change—and all the subsequent effects, like wildlife and habitat loss, or the upending of our food and water systems—and how expensive that all is. While nearly a third of the country is at risk of breathing in a dark haze straight out of dystopia, Republicans are still lecturing us for having the nerve to say enough is enough.
There has been a great deal of focus on how Republicans, in their vicious agenda against education, LGBTQ people, and immigrants, are massively out of touch with most of America. It's high time we externalize the fact that they are just as out of touch when it comes to climate and the environment. Pretty much everyone enjoys or appreciates our natural world: aesthetically, spiritually, recreationally, or simply by virtue of its being where their food and water comes from. But the conservative movement has no answer to protect it all—and wants to blame those of us who are trying to find one.