Kathy Hochul Wants a Republican to Lead New York's Energy Sector
There's reason to be concerned about Justin Driscoll's nomination as head of the New York Power Authority.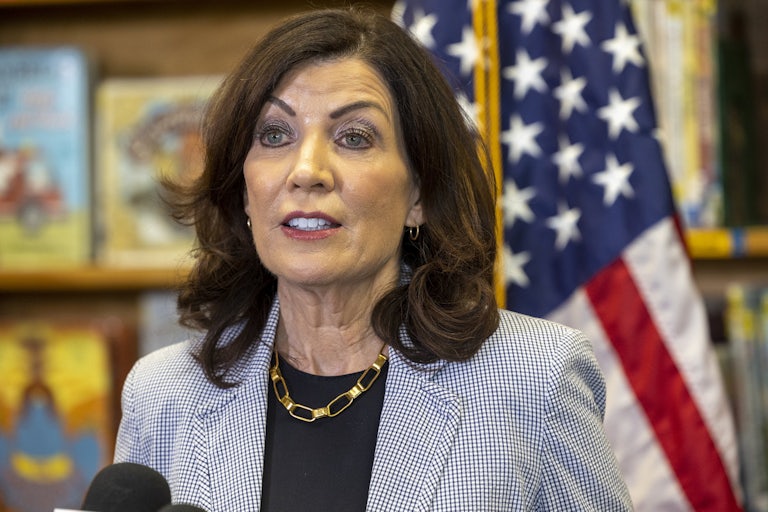 Howard Schnapp/Newsday RM/Getty Images
New York Governor Kathy Hochul
New York is enveloped in a dense, ominous haze of smoke, a looming reminder of what may come without a green transition. Meanwhile, Kathy Hochul is trying to push through a Republican and climate-denialist donor to lead the state's energy and power operations.
Justin Driscoll is the current interim CEO of the New York Power Authority, earning the recommendation of the NYPA board last year (a board that is appointed by the governor). Now, the state Senate will hold a confirmation vote this week on whether he should become a permanent fixture in the role.
Driscoll has a long résumé working in energy, but a closer look reveals a mixed record of concern to anyone who might specifically care about clean energy.

For starters, Driscoll is a registered Republican with a history of donations to Republican candidates and organizations.
That includes the New York Assembly Republican Campaign Committee, then–New Jersey gubernatorial candidate Chris Christie, and Texas's John Cornyn, during his first bid for the Senate in 2002. At the time, Cornyn had been criticized for accepting nearly $200,000 in political contributions from Enron, the energy company infamously wrapped up in corporate fraud. Driscoll nevertheless apparently found the Texas Republican—now a member of Congress who doesn't believe climate change is real—to be compelling.
Driscoll's record on actual policy also brings cause for scrutiny. Last year, he opposed the Build Public Renewables Act, legislation that sought to expand NYPA's green energy production.
State lawmakers have passed the bill anyway, and many have hailed it as the "biggest Green New Deal win in U.S. history," providing a model for how states can set course for strong transitions toward greener energy while creating jobs.
That is the kind of success Driscoll went out of his way to oppose.
"The NY State Senate voted to pass the BPRA this session because we know how crucial it is for climate action in New York," state Senator Julia Salazar tweeted last year. "We cannot then turn around and vote to confirm a NYPA CEO who isn't up to the task, which is why I wouldn't be able to support Justin Driscoll's nomination."
And even on his actual leadership, there is reason to be concerned.
On Tuesday, Buffalo News reported that Driscoll oversaw an alleged racially discriminatory NYPA environment while serving as its general counsel from 2014 to 2021.

One senior power plant operator, Christopher Carey, was accused of berating, belittling, and discrediting the late Shirley Hamilton, the former president of the Niagara Falls NAACP and NYPA employee of 44 years.
Carey allegedly said no one could have Hamilton fired because she was "Black and untouchable," but threatened that he would "get her fired and be the first." Carey reportedly held Hamilton to standards he would not hold white employees to and said he had "management so bamboozled that I could run around the control room nude with Shirley and no one would believe her."
The complainant, NYPA employee Nick Gilewski, claimed he was denied a raise and disciplined by Carey in retaliation for making the accusations. Gilewski resigned, citing how Carey's pay just kept increasing despite the allegations, which grew to include another Black employee, Rudolph June.
In 2015, Buffalo News reports, June wrote a letter directly to Driscoll, who was general counsel for NYPA at the time. In it, June cited the hostile work environment, including threats of violence and even an incident where drawings that depicted African Americans as Black minstrels were found on site.
"While I can appreciate your frustration, I want to assure you that the Authority conducted a thorough investigation into your claims," Driscoll wrote back.
June was fired from the agency in 2019, which he maintains was due to his complaints related to discrimination.
Perhaps Driscoll's nomination makes sense when you look at Hochul's own dodgy record on energy. In April, she granted an economic development award to Amazon, one of the wealthiest corporations in the world, giving it special access to low-cost power. She put the Build Public Renewables Act on the negotiating table while finalizing next year's budget, allowing it to be slightly watered down.
Hochul also pushed a pro–fossil fuel bill that would have the state measure methane emissions impacts over 100 years, rather than 20, absurdly decreasing accountability. And she even appointed Caitlin Halligan to the state's Court of Appeals; Halligan was part of Chevron's legal team that aimed to take down environmental lawyer Steven Donziger, who stood up to the company for profiting off polluting the Amazon rainforest.
Just months after Hochul's unsuccessful bid to push through a court nominee widely unpopular with much of the Democratic base—liberals, progressives, workers, pro-choice voters, and more—she is now trying to push through a Republican who has donated to climate denialists and who allegedly oversaw a racially discriminatory workplace to lead New York's public power operations.