Republicans Resurrect National Abortion Ban in Time for Dobbs Anniversary
Republicans seem to no longer care about the "states' rights" argument.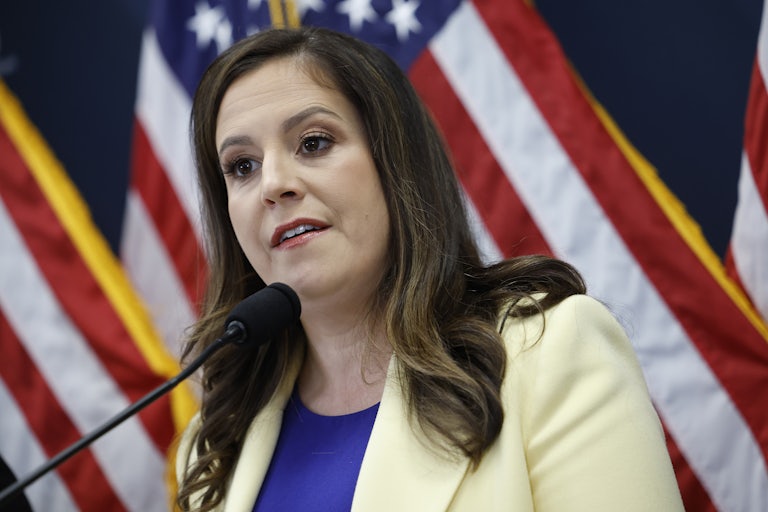 Kevin Dietsch/Getty Images
Representative Elise Stefanik
Almost exactly a year after celebrating abortion law being returned to the states, Republicans are once again embracing the idea of a national ban on abortion.
When the Supreme Court overturned Roe v. Wade on June 24, 2022, Republicans hailed the decision as a step in the right direction. Many GOP lawmakers argued that abortion rights are a state issue, not a federal one.
But on Tuesday, Representative Elise Stefanik indicated that she and her colleagues will introduce a bill banning abortion nationwide after 15 weeks. "The people are the most important voices" on abortion, Stefanik said, apparently not seeing the irony of her words.
Speaking at an event to mark the Dobbs v. Jackson Women's Health Organization ruling, hosted by the anti-abortion group Susan B. Anthony Pro-Life America, Stefanik argued that the federal government does have a role in abortion legislation, particularly in "building consensus" nationally on the topic.
"We should embrace this debate," Stefanik said.
Stefanik's announcement takes Republicans' war on abortion rights to the next level. Last year, when Senator Lindsey Graham introduced a federal 15-week abortion ban just before the midterms, many of his colleagues slammed the move. The bill never made it to the Senate floor. But Stefanik is signaling that more Republicans are ready to embrace a national ban.
Except there is already a national consensus on abortion rights. An overwhelming majority of Americans—62 percent, to be exact—still think abortion should be legal in all or most cases, according to the Pew Research Center. What's more, people consistently vote in favor of increasing abortion rights protections.
And yet Republicans have the gall not only to consistently override the will of the people but also to pretend that a 15- or 20-week ban is somehow a compromise.