Blow to GOP: New York Court Orders New Map That Could Help Dems Retake House
2024 is going to look very different.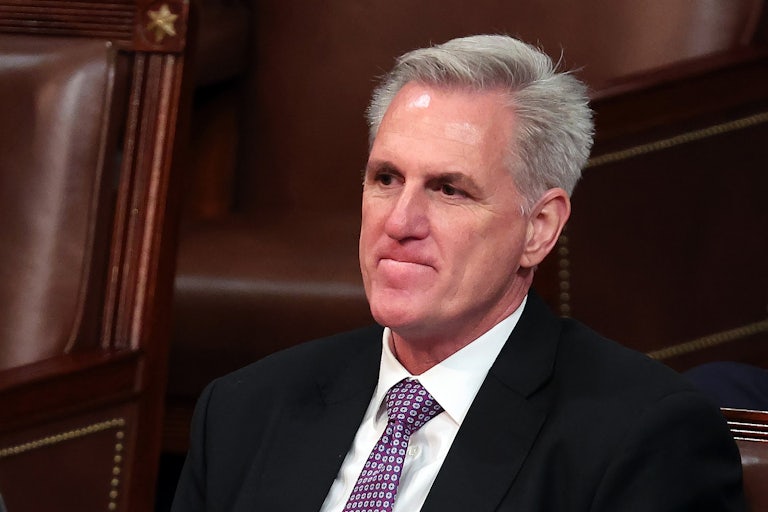 Win McNamee/Getty Images
House Speaker Kevin McCarthy
New York Democrats helped the party narrowly lose the House majority by dropping the ball on a slate of races in the last election—and now we have Republicans like George Santos in Congress. But beyond their own mismanagement, redistricted maps drawn by a conservative court stacked by former Governor Andrew Cuomo didn't help. Now, those maps may be on their way to getting redrawn.
On Thursday, a New York appeals court ordered new congressional maps, turning the pressure even higher on Republicans who fear a fizzled midterm performance may carry over into 2024. In the last election, the current maps at least helped them flip four House seats.
But the Appellate Division of the State Supreme Court has ordered the bipartisan Independent Redistricting Commission (IRC) to redraw the congressional lines.

The saga surrounding New York's redistricting stems back to 2014, when residents voted to adopt a constitutional amendment that banned gerrymandering and instituted the IRC to help create fair maps. The commission met last year to draw district lines, but was unsuccessful in completing its work—the party deadlock left the commission's work in gridlock. Consequently, the Democratic-led legislature took over and drew its own maps.
Republicans sued, and the Cuomo-stacked state Court of Appeals overturned the maps and gave the district-making authority to its own appointed special master. The resultant maps are what helped Republicans make unlikely gains in the blue state.
The court's Thursday decision responds to a lawsuit filed by Democrats last year arguing that the special master-drawn maps were temporary, and that the commission has to complete its work in drawing maps.
And with their ruling, the commission indeed has its authority once more to draw the maps; and if there is again a deadlock, the legislature now has authority to finish the job. Republicans are appealing the decision, and while the Court of Appeals ruled against the Democrats' maps last year, the outcome may not hold again this year. The court's makeup is different, and is now chiefed by Judge Rowan D. Wilson, who himself dissented against the decision last year.
The implications of the case ought not be understated. An array of Republicans—like Santos, or Representatives Mike Lawler and Anthony D'Esposito—in districts that voted for Biden may have a much more difficult time defending their seats come 2024.