New Explosive Roger Stone Video Dooms Donald Trump's Main Legal Defense
The video was filmed before the election results had even been announced.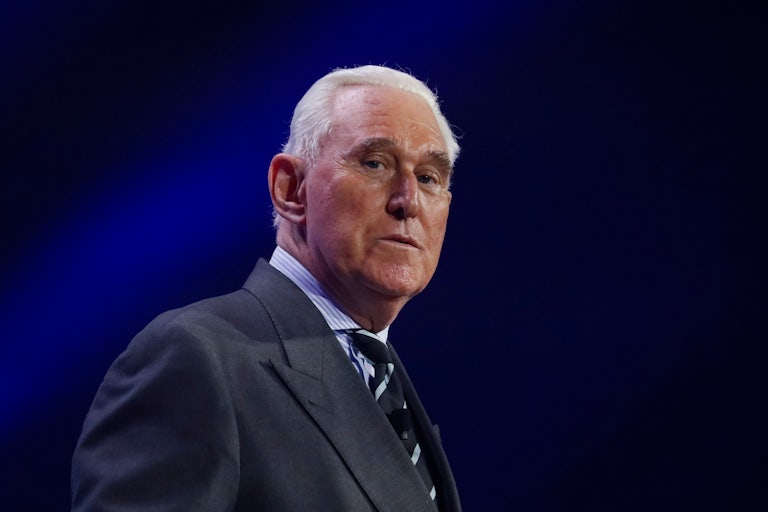 Eva Marie Uzcategui/Bloomberg/Getty Images
New explosive footage of Roger Stone strategizing to overturn the 2020 presidential election—before the vote was even called for Joe Biden—dooms Donald Trump's main legal defense.
The video, aired on MSNBC Wednesday night and shot by filmmaker Christoffer Guldbrandsen, depicts the right-wing lobbyist dictating a fake elector plot in key battleground states. The video was taken on November 5, 2020, two days before the election was called, thus disproving Trump's main defense that he and his allies genuinely believed they had won the race.
"Any legislative body may decide on the basis of overwhelming evidence of fraud to send electors to the electoral college who accurately reflect the president's legitimate victory in their state which was illegally denied him through fraud," Stone said, as an associate transcribed his words. "We must be prepared to lobby our Republican legislatures … by personal contact and by demonstrating the overwhelming will of the people in their state—in each state—that this may need to happen."
Trump was indicted for the fourth time and charged with 13 counts in Georgia on Monday.

Stone is not named as a co-defendant in the indictment. He could, however, potentially be one of the 30 unnamed, co-conspirators.
The clip was part of Guldbrandsen's documentary, A Storm Foretold, released in March of this year. Guldbrandsen told The Daily Beast that Stone was "upset" when the documentary aired.

In another clip from the documentary taken on November 1, 2020, Stone said Trump needed to claim victory early on election night.

"I really do suspect it'll still be up in the air. When that happens, the key thing to do is to claim victory. Possession is nine-tenths of the law," he said.