"He's F*cked": Republicans Predict the End of George Santos
After the damning House ethics report, Republicans are finally turning against George Santos.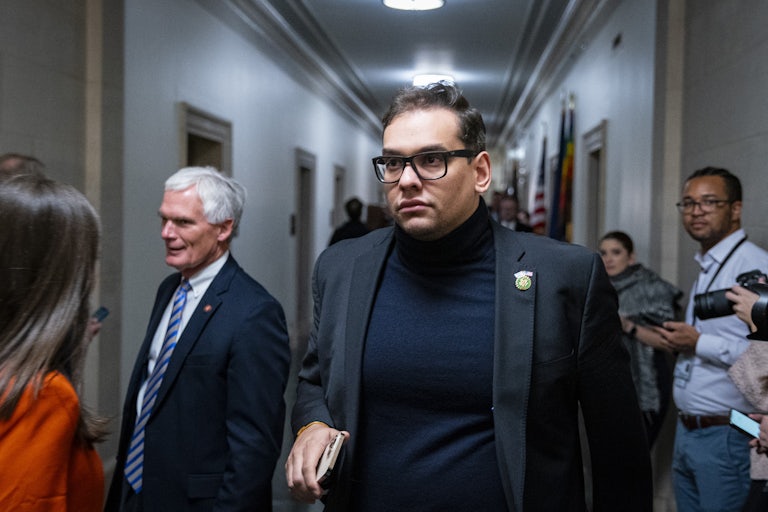 Al Drago/Bloomberg/Getty Images
A new survey of House members indicates that at least 60 Republicans intend to vote to expel Santos, Politico reported. That's more than double the number who voted against him in another expulsion attempt earlier this month.
The sudden change of opinion follows the release of a scandalous, 56-page ethics report on the New York Republican, which found that he blew campaign funds on personal expenses, including Botox injections, trips to Atlantic City with his husband, and subscriptions on OnlyFans, an online content service primarily used by sex workers.
In order to remove him for good, Democrats will need to rally a unanimous vote from their party along with roughly 80 Republican votes. And that is looking increasingly likely, as right-wing opinion of Santos continues to sour, flipping more Republican votes by the day.
"He's fucked," one GOP leadership aide told Politico under the condition of anonymity.
Other Republicans took to social media to express their frustrations, believing that they had given Santos enough time following initial reports that found the freshman congressman lied about almost every detail of his life, including obtaining a college degree, working on Wall Street, and his alleged Jewish heritage.
"I gave Rep. George Santos the time needed for an ethics report following his indictments," said Iowa Representative Randy Feenstra in a statement.
"Rep. George Santos has proven that his ethics do not align with what we expect from our leaders. In light of the Ethics Committee report, I will vote to expel him from Congress for his illegal and unethical behavior should he choose not to do the right thing and resign," Feenstra added.
Santos has been indicted on 23 charges related to wire fraud, credit card fraud, money laundering, falsification of records, and identity theft.