U.S. Shoots Down Unidentified Object Floating Over Alaska
Just a week after the Chinese spy balloon, the White House has confirmed that a second high-altitude object has been shot down. What exactly the object is or where it comes from remains unclear.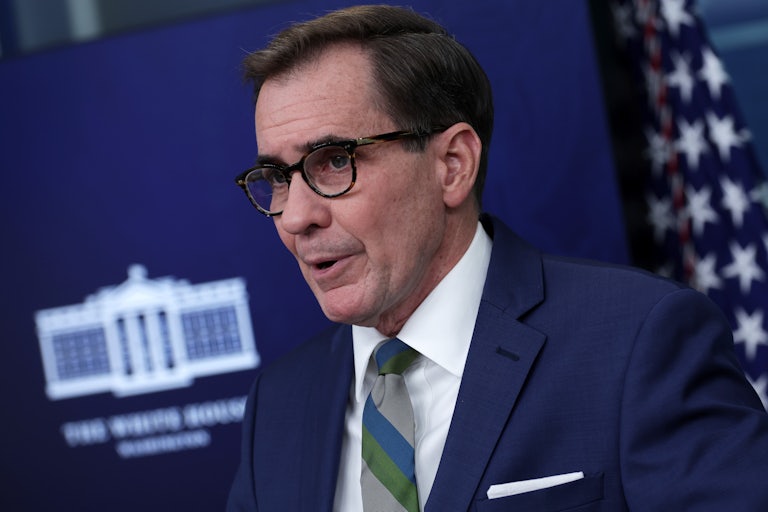 Alex Wong/Getty Images
Coordinator for Strategic Communications at the National Security Council John Kirby
Just a week after the hullabaloo of the Chinese spy balloon, the United States shot down an object the size of a small car that was floating over Alaska on Friday.
National Security Council spokesperson John Kirby said the object, first observed yesterday, "posed a reasonable threat to the safety of civilian flight." Per recommendation from the Pentagon, President Biden ordered the military to shoot down the object, which was cruising at an altitude of roughly 40,000 feet.
Though the government seemed to act more swiftly than with the Chinese spy balloon, there have been fewer details to come with the act. What the object exactly is, from where it originates, and what purpose it was serving are all unclear.

Kirby did say, however, that Air Force pilots allegedly found the aircraft to not be manned before the final order to shoot it down.
The object follows reports of numerous Chinese spy balloons flying all over the world, including at least once earlier during Biden's presidency and three times during Trump's. Unlike the previous balloons, which seemed to be flying at an even higher altitude, its flight path was low enough to potentially threaten civilian aircraft. The object was also much smaller than last week's balloon, which was reportedly 200 feet tall.