A New Kentucky Bill Would Prosecute Illegal Abortions as Criminal Homicide
The bill would overturn the will of the voters, who recently rejected an anti-abortion ballot initiative.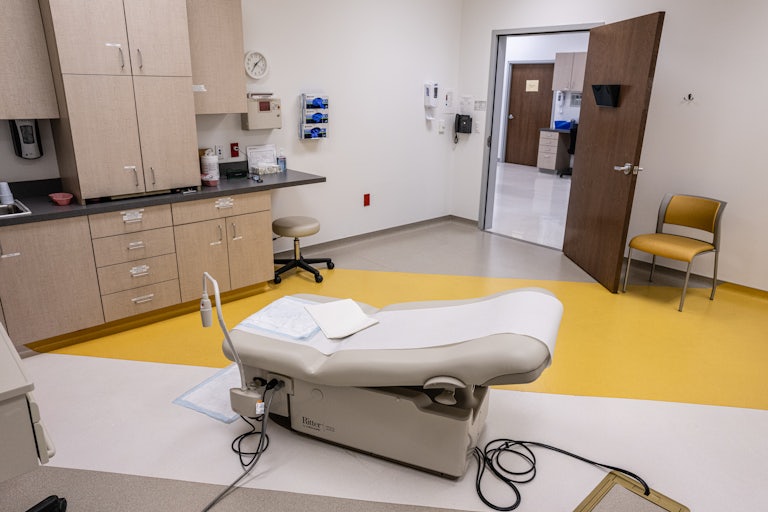 Jon Cherry/Getty Images
An exam table in a room where surgeries, including abortions, are performed at a Planned Parenthood Health Center in Louisville, Kentucky
A Kentucky Republican lawmaker has introduced legislation that would let the state prosecute a person who gets an illegal abortion for criminal homicide, making it the latest state to try and clamp down on reproductive access in direct opposition to the will of the people.
Since the fall of Roe v. Wade, abortion is banned in Kentucky except to save the life of the pregnant person, meaning any abortion due to rape, incest, or just personal choice is illegal. The current law, though, does state that someone who receives an illegal abortion cannot be subjected to "any criminal conviction and penalty."
The new bill, introduced Tuesday by Republican State Representative Emily Callaway, strips away that protection. The legislation would amend the current law to establish that life begins at fertilization, therefore all fetuses are owed the same protections as a living human.
"Unless specifically provided otherwise, in prosecution under this chapter where the victim is an unborn child, enforcement shall be subject to the same legal principles as would apply to the homicide of a person who had been born alive," the text says.
The bill does make exceptions for "lawful" medical procedures carried out to save the pregnant person's life. It also protects against prosecution for a medical procedure that results in a "natural or accidental" miscarriage.
The bill comes just a few months after Kentucky residents voted in the midterms against an amendment that would have said abortion is not a protected right in the state.

Heather Gatnarek, the ACLU of Kentucky's senior staff attorney, slammed the new legislation as "absurd and offensive and dangerous."
"It's just so far afield from what we know Kentuckians want and what they need," she told The Courier Journal. "We know people still need access to abortions."
Kentucky is now the latest state to try to overturn the will of the people. The most notable one is Kansas, where lawmakers are trying to let cities and counties ban abortion after residents overwhelmingly voted to keep abortion protections in the state constitution.
Republicans have made clear they are going full-speed ahead with attacks on abortion rights, both at the state and federal level. Democrats are trying to combat their attempts, but it is an uphill battle. President Joe Biden has promised repeatedly to veto any federal abortion ban bills, but any legislation actually enshrining the right to the procedure is unlikely to pass the Republican-controlled House of Representatives or even the Senate, which Democrats hold by a thin majority.