Idaho Republicans Want to Charge People With "Human Trafficking" for Helping Minors to Get an Abortion
Anyone found guilty under the proposed law would face up to five years in prison.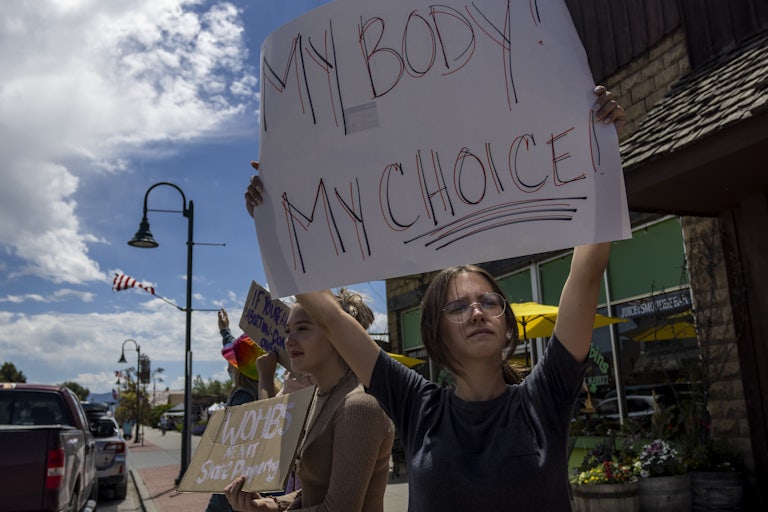 A group of teenagers in Driggs, Idaho, protest the Supreme Court's decision to overturn Roe v. Wade.
Republican lawmakers in Idaho want to expand the definition of "human trafficking" to include helping a minor get an abortion.
The bill, which was introduced Tuesday, would prohibit "recruiting, harboring, or transporting" a person under the age of 18 to get an abortion or abortion medication, either in Idaho or out of state. It would also give the state attorney general the power to prosecute someone for violating the proposed law, should the prosecuting attorney in the relevant county refuse to do so.
Anyone who helps a minor get an abortion without their parents' knowledge could be charged with human trafficking. But the bill says that if the minor's parents or guardians consented to the abortion, then that would count as a legal defense. Anyone found guilty of human trafficking under the new, expanded definition would face between two to five years in prison.
Abortion in Idaho is illegal, with exceptions for rape, incest, or risk to the life of the pregnant person. But the bill introduced Tuesday does not include similar exceptions. It is also short on details about exceptions for minors who are being sexually abused at home, or whether both parents or guardians need to consent to the procedure or only one is acceptable.
Idaho is not the first state to try to restrict the ability to help someone get an abortion. Missouri lawmakers introduced a bill in March that would allow people to sue anyone who helped a state resident get an abortion, including transporting them across state lines. State House lawmakers blocked the bill a few weeks later.
Since Roe v. Wade was overturned, Republicans across the country have gone full-speed ahead on restricting abortion rights, for instance in Kansas, where lawmakers are trying to overturn the will of the people. Democrats have tried to combat their efforts, including at the federal level, where House Democrats introduced a bill protecting the right to cross state lines to get the procedure.
That bill is unlikely to pass the Republican-controlled chamber. President Joe Biden has promised repeatedly to veto any federal abortion ban bills, but during the State of the Union address Tuesday he only said the word "abortion" once, infuriating reproductive rights activists.