Starbucks Workers Are on a Nationwide Strike to Protest Union-Busting
Workers are greeting the company's new CEO with a demand for a "real seat at the table."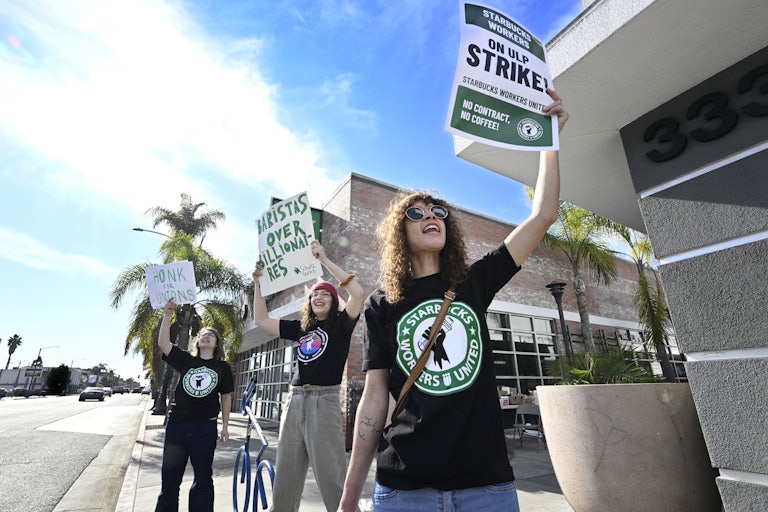 Brittany Murray/MediaNews Group/Long Beach Press-Telegram/Getty Images
(From left) Kit Kittleson, Josie Serrano, and Misha Spencer hold picket signs as they strike in front of a Starbucks in Long Beach, California, on December 16.
"We are on strike today … to show Starbucks that we will no longer take the hour cuts, the lack of guaranteed hours. We will no longer settle for anything less than a real seat at the table, and also to show them that we have the power," a woman named Lola, who works at a Starbucks store in St. Paul, Minnesota, told More Perfect Union.
Starbucks employees took to the streets in more than 40 cities. The first coffee store unionized in Buffalo, New York, almost a year and a half ago, and union efforts have prevailed at hundreds of other locations. At least 421 Starbucks locations nationwide have launched unionization efforts, 287 of which have been successful. Another 39 are currently ongoing.
But over the past year, Starbucks has shuttered multiple locations, some of which were either unionized or reportedly forming a union. The company fired more than 100 union leaders, some of whom were reinstated only after a federal judge ordered Starbucks to do so. And when Starbucks representatives finally met with union members in October, after months of delays, they walked out after just a few minutes because they disliked that some union members had called in over Zoom.

Schultz came under particular fire during his third tenure as Starbucks CEO for alleged union-busting tactics. His retirement announcement came a little more than a week before he was due to appear in front of a key Senate labor committee.
He had agreed to testify before the Senate Health, Education, Labor and Pensions Committee, just before the committee voted to subpoena him over the union-busting allegations. Schultz will still have to appear in front of the committee, even though he is no longer Starbucks's CEO.