Smirky Jesse Watters Takes Tucker's Slot Tonight, and Here's Why It's Going to Suck
Fox is swapping one radical, bigoted news anchor for another.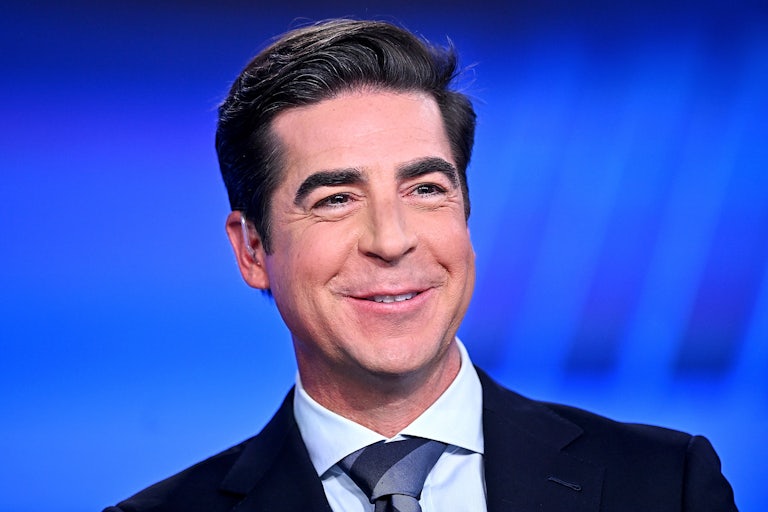 Steven Ferdman/Getty Images
Jesse Watters
Fox News anchor Jesse Watters, who has a long history of racism, sexism, and general grossness, makes his debut Monday night hosting the coveted 8 p.m. slot.
Fox has been looking to revitalize the prized evening slot, which has seen viewer numbers nose-dive after the network unceremoniously fired its star Tucker Carlson. Watters isn't exactly an upgrade though. Both men peddle conspiracy theories, stoke outrage, and push general bigotry.
Here's a look back at some of Watters's worst moments.
1. He called unhoused people an "invasive species."
Watters has repeatedly attacked unhoused people for … not having a home. "Being that our studio is here in New York, we're witnessing a major problem, something all cities are dealing with: the deranged and dangerous homeless," he said in September. "West Coast cities are so bad, you don't even know whether you're in Fallujah or L.A. In Portland, the homeless have become an invasive species."
He has also called for unhoused people to be institutionalized, and even encouraged people to get rid of squatters by burning down the buildings they were taking shelter in.

2. He pushed the "great replacement theory" on air.
Watters accused President Joe Biden of using Covid-19 as part of the "great replacement," which the Southern Poverty Law Center defines as a "racist conspiracy narrative [that] falsely asserts there is an active, ongoing, and covert effort to replace white populations in current white-majority countries."
"We had a million Americans die from Covid-19, and Joe Biden just brought in a million illegal aliens to take their place," Watters said in June.
3. He mocked Asian people in a racist segment in New York's Chinatown.
During the presidential debate in October 2016, Donald Trump criticized China multiple times. In response, Watters headed to New York's Chinatown to interview people on how they felt about it.
Watters's interviews, if you can call them that, were packed with Asian stereotypes. He nonsensically combined different Asian cultures and implicitly mocked people for seemingly not speaking English. He later apologized by saying the segment was meant to be "tongue-in-cheek," but only after he faced intense backlash for the racist tropes.
4. He rarely includes context or actual facts in his coverage.
Watters regularly excludes key context from stories he covers. In October, he shared a clip of Fox News reporter Peter Doocy asking White House spokeswoman Karine Jean-Pierre about oil companies. In Watters's clip, Jean-Pierre appears to give a confused and vague response. "We wanted to show you the rest of her answer, but she didn't make any sense," Watters said.
But the full clip shows Jean-Pierre giving Doocy a complete answer and even pointing out that he has already asked her that question.
Watters also spread disinformation about the case of the 10-year-old girl from Ohio who had to travel out of state for an abortion. When his claims were debunked, Watters then falsely insisted that the girl hadn't needed to travel out of Ohio.

5. He let the air out of a colleague's tires so he could drive her home and hit on her.
Watters has openly boasted about the time he flirted with a colleague by vandalizing her car. In April 2022, he bragged on air about letting the air out of a Fox news associate producer's tires, forcing her to accept a ride home from him. Watters, who is now 45, was 39 and married at the time. The producer was 25.
But it's OK, because he and the producer are now married.
While not a direct comment on his journalistic abilities, it's a pretty clear comment on Watters's character.