Herschel Walker's Son: "Everyone With a Brain Begged Him Not to Do This"
Christian Walker, the estranged son of failed Georgia Senate candidate Herschel Walker, had some choice words for his father and the entire Republican Party.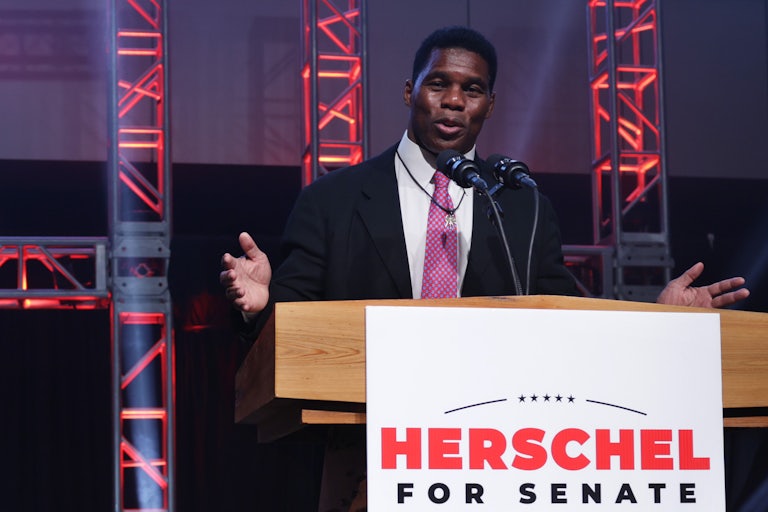 Alex Wong/Getty Images
Failed Georgia Senate candidate Herschel Walker
Herschel Walker's son has gone off on the failed Georgia Senate candidate, branding him a "backstabber" and a liar.
Christian Walker, an ultraconservative social media influencer, has been vocal in his criticism of his father. Following Herschel Walker's loss Tuesday night to Democrat Raphael Warnock, the younger Walker did not hold back.
In a series of tweets, Christian Walker condemned his father for both his past actions and his decision to run.
"I was called a backstabber after getting angry and blowing up from watching my dad lie for 18 months straight.… But he's not a backstabber for leaving his 2 minor children he kept secret to grow up without a dad as he chases more fame and power?" he demanded in another tweet. "Pathetic. Raise your kids."
Christian Walker had kept his distance from the Senate campaign—although Herschel Walker spoke often about the relationship the two had—but he finally snapped in October.
Herschel Walker, a MAGA Republican, has repeatedly said he does not believe in abortion and criticized absentee Black fathers. But reports began to surface that he had paid for one women to get an abortion and fathered a child with another.
Christian Walker slammed his father for lying and pretending to be a "moral, Christian, upright man." "You've lived a life of DESTROYING other peoples lives. How dare you," he tweeted at the time.
Both Christian Walker and his mother have accused Herschel Walker of abuse and threatening to kill them. Two women have now accused the former NFL player of forcing them to get abortions, and at least five women have accused the former NFL player of emotional or physical abuse.
Walker has denied the allegations, and the Republican Party continued to back him throughout the midterm elections and the runoff race.