We Spoke to the Congressman Singing Rihanna on the House Floor for Climate
On FERC, self-imposed "cringe," and an essential but lesser-known arena for climate policy.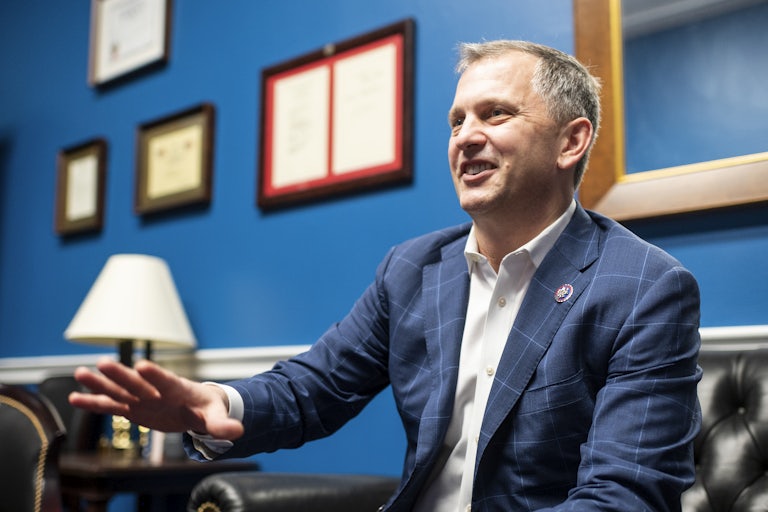 Bill Clark/CQ-Roll Call, Inc via Getty Images
Sean Casten has no shame when it comes to climate advocacy.

In fact, the Illinois representative spent his Tuesday morning singing praises for the Federal Energy Regulatory Commission (FERC), to the tune of Rihanna's "Work."

"To my colleagues in the Senate, the eyes of the nation in this chamber are on you, we will never, no never, neglect you. We do not hold your past against you," Casten urged the Senate, to a rhythm that would make Lin Manuel-Miranda blush. "But you need to get it done, done, done, done, done, done."
"Mr. Speaker, what else can I say, I'm trying babe," Casten finished, yielding to presiding Speaker Pat Ryan.
FERC oversees much of the energy sector, including interstate electricity transmission, hydroelectric project licensing, and natural gas and oil pipeline projects. Casten—who beat a six-term Republican incumbent in his district in 2018—was seeking to bring attention to the Senate failing to renominate FERC's fifth commissioner, Chairman Richard Glick.

Biden had set a previous goal of a zero-carbon pollution power sector by 2035, and a net-zero emissions economy by 2050, something the Inflation Reduction Act puts America on track to approach. Massive electricity generation, transmission, and storage are needed to attain such goals. Without a fully-staffed FERC, it'll be hard to meet them.

The danger is if any FERC decisions related to the energy transition are split 2-2, Casten told The New Republic. "The things that we're trying to do, that capital markets are trying to do, to give us cleaner, more reliable, more efficient energy are now going to be stalled just for a bureaucratic reason because we didn't appoint a commissioner. It's an own-goal."
"A deadlocked FERC would eliminate up to 80 percent of the emissions reductions created by the IRA," Casten noted in his musical remarks Tuesday.
For months, the fate of Glick's renomination has been up in the air. Senator Joe Manchin, who has enjoyed millions of dollars from coal companies he founded, chairs the Energy and Natural Resources Committee tasked with conducting hearings with FERC nominees. Thus far, the senator has refused to hold a hearing.
In March, Manchin did call a hearing, but only to reprimand Glick and the commission's Democrats for requiring more information from natural gas projects about their economic justification and environmental impacts. And Manchin was further incensed after President Biden last month called to shut down coal-powered energy plants.
Manchin, who has spent months lobbying for permitting reform that would—beyond clearing the path for a natural gas pet project in his own state—ostensibly promote construction of new electrical transmission lines, is hindering the staffing of the agency that would oversee that reform. He moreover threatens the timely execution of the IRA, one of Biden's most signature accomplishments.
Last year, Casten led a #HotFERCSummer campaign featuring House floor renditions inspired by Megan Thee Stallion, Fergie, and Dolly Parton to advocate for FERC-related legislation and to fill a previously empty FERC seat, which was completed in November 2021.

And his advocacy continues.
"Having had some degree of success to break the deadlock last time—just at the expense of humiliating myself on the House floor—I thought we'd try to do it again and cringe it up and do some more dad jokes and see if we can strike lightning twice."