U.S. Set to Send Tanks to Ukraine in Major Reversal From Biden Administration
As the United States plans to send Abrams tanks to Ukraine, Germany also confirmed it will send its Leopard 2 tanks to the country.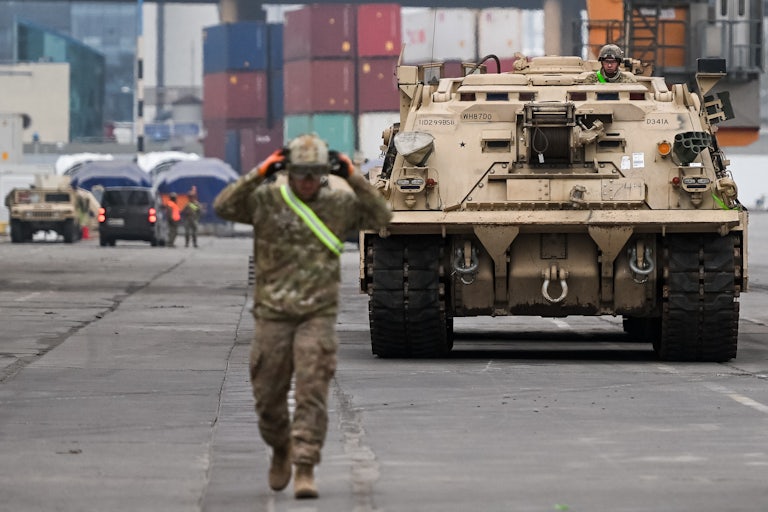 MATEUSZ SLODKOWSKI/AFP
A U.S. Army M1A2 Abrams battle tank at the Baltic Container Terminal in Gdynia, Poland, on December 3
Early reports on Tuesday evening of the U.S. agreeing to send Abrams tanks likely helped convince Germany to provide Leopard 2 tanks to Ukraine. The German government confirmed Wednesday that it would send 14 Leopard tanks to Kyiv. Berlin had been holding out on sending battle tanks until Washington agreed to do the same, as Russia has repeatedly warned that providing tanks to Ukraine would be seen as a major provocation.
Ukrainian President Volodymyr Zelenskiy hailed Germany's decision, saying it would provide a "green light for partners to supply similar weapons." Other Western nations such as Poland have been waiting for Germany's go-ahead before providing Leopards to Ukraine.
The U.S. had previously resisted sending Abrams tanks to Ukraine, citing difficulties with maintenance and training. Just last week, U.S. Undersecretary of Defense for Policy Colin Kahl told journalists that Pentagon officials were worried about giving Kyiv a piece of equipment that its soldiers "can't repair, they can't sustain, and that they over the long term can't afford."
Ukraine has repeatedly asked for battle tanks, which both its leaders and international defense analysts believe could help turn the tide of the now nearly yearlong war.
Al Jazeera defense analyst Alex Gatopoulos noted that modern Western tanks have been designed with the specific goal of defeating Russian-made ones. He also pointed out that southern Ukraine is flat, making the terrain ideal for using tanks as "armoured fists that can punch through defensive lines."
The decision to send Abrams tanks also comes as opinions in Washington begin to split over Ukraine. Republicans, particularly in the House of Representatives, are losing their taste for providing so much aid to Kyiv. Meanwhile, Democrats have been pushing Biden to officially designate Russia as a state sponsor of terrorism, something he has been adamant he will not do.
This post has been updated.