Oklahoma Republicans Stop Bill That Would've Banned Hitting Disabled Kids at School
Republican lawmakers read Bible verses and talked about the need for physical discipline, before voting against the bill.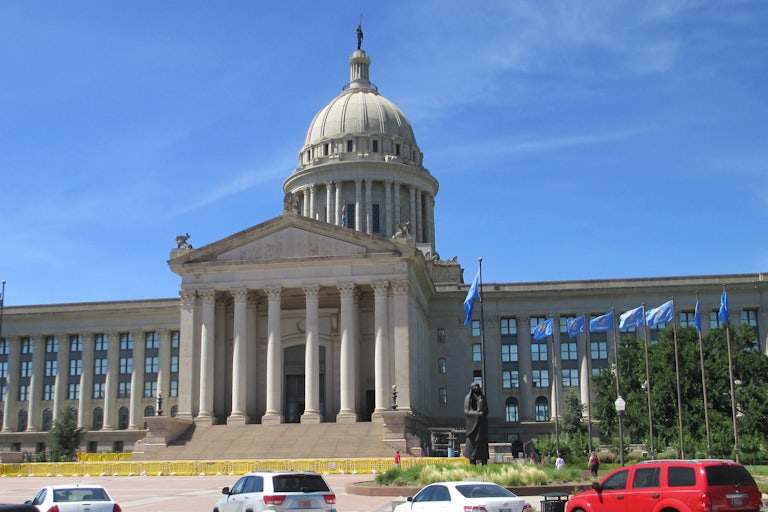 Getty Images
Oklahoma State Capitol building
A just society would not allow teachers to hit disabled kids at school. Sounds reasonable enough, right? Well, Oklahoma Republicans disagree.
On Tuesday, the Oklahoma House, in which Republicans have a supermajority, voted against House Bill 1028, which would have outlawed school district personnel from "using corporal punishment on any student identified with a disability in accordance with the Individuals with Disabilities Education Act."

After lawmakers read Bible verses and talked about the need for physical discipline, the measure failed to proceed by a vote of 45–43 (though a narrow majority, the bill needed 51 votes to pass).
Current Oklahoma law only prohibits "deliberate infliction of physical pain" to discipline students with "the most significant cognitive disabilities." Even then, schools can obtain permission from parents or guardians to supersede the ban.
"The rod and reproof give wisdom. But a child left to himself bringeth his mother to shame," said Republican Representative Jim Olsen. "So that would seem to endorse the use of corporal punishment. So, how would you reconcile this bill with scripture's counsel on this matter?" he asked Representative John Talley, a proponent for the bill.
Olsen then asked, "On what basis would we automatically conclude a special needs child should not get corporal punishment?" as if there's some dangerous risk in allowing children not to be hit by their teachers.
Olsen proceeded to nonblushingly cite a constituent call he apparently received from someone who said their "special needs" child "did not respond to positive motivation but that she responded very well to corporal punishment."
According to his biography, Olsen himself serves as a Sunday school teacher.
Another Republican representative, Randy Randleman, actually wanted to get into the minutiae of the bill to make sure parents could still freely hit their kids.
"A child could have dyslexia, and then you couldn't spank him, correct?" he said. "I would never spank an emotional problem, I would never spank a neurological problem," he continued, in curious syntactical manner. "But if a parent has the choice, and they know that it can stop a misbehavior for behavioral problem, is this bill stopping that?"

Again, the bill's bare-minimum ambition was just to outlaw school staff (not even all people) from being able to hit disabled children (not even all children).
"'You can't touch me.' I hear that over and over. I don't want to hear that in school," Randleman said.
Randleman (supposedly a certified teacher, counselor, principal, psychometrist, school psychologist, and superintendent) has "a passion for children—his children, your children, Oklahoma's children," according to his biography.
"We need to help teachers understand how to discipline difficult children while keeping consistency in all classrooms," he says in his bio.