Who Is Brian Babin? More on the Congressman Who Texted Meadows About Overturning the 2020 Election
The Texas representative texted Donald Trump's then chief of staff 21 times, warning about a Biden victory and the threats of a "corrupt Marxist dictatorship."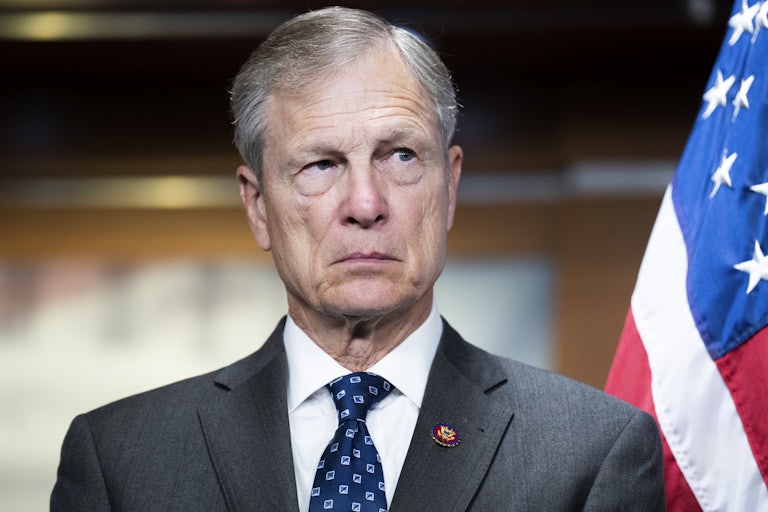 Tom Williams/CQ-Roll Call, Inc/Getty Images
Representative Brian Babin was among at least 34 Republican members of Congress who texted former White House chief of staff Mark Meadows about attempts to overturn the 2020 election.
The chilling messages, first reported on by Talking Points Memo, include some notable names, but the rest read like a veritable "who's that?" of election deniers in Congress.
Texas Representative Babin texted Meadows at least 21 times, starting before the election, but TPM was only able to verify a paltry four responses. He also signs his texts, which is not an indication of culpability but is weird.
Babin urged Meadows to "fight like hell" to win, warning that a Joe Biden victory would usher in a "corrupt Marxist dictatorship."
He also expressed concerns that other members of Congress would try to do the right thing and stop him and his cohort from overturning the election. He asked Meadows to reach out to then–Vice President Mike Pence to help them.
Throughout his texts, Babin repeated baseless claims that the election had been stolen. He described the vote as a "theft" and, in late December, sent Meadows an article describing claims from Pennsylvania Republicans that the votes didn't "add up."
Pennsylvania's Department of State had thoroughly debunked the article and roundly rebuked the state representative pushing the so-called "analysis," but Meadows replied to Babin that he had forwarded the piece to the Department of Justice.
A former dentist, Babin has been a Trump supporter and apologist since the former president took office. In September 2020, he insisted Trump took every possible preventive measure to stop the spread of the coronavirus. He defended Trump against accusations that he had downplayed Covid-19's deadly nature, and even compared him to Franklin Delano Roosevelt after Pearl Harbor.
In 2021, Babin voted against multiple major bills, including Build Back Better, the American Rescue Plan, the Women's Health Protection Act, and the Covid-19 Hate Crimes Act. Last week, he also voted against the Respect for Marriage Act, which protects same-sex and interracial marriage.