George Santos Gets Committee Assignments Despite Being Under Multiple Criminal Investigations
The Republican Party can't afford to lose any more members, so they're rewarding George Santos with two committee assignments.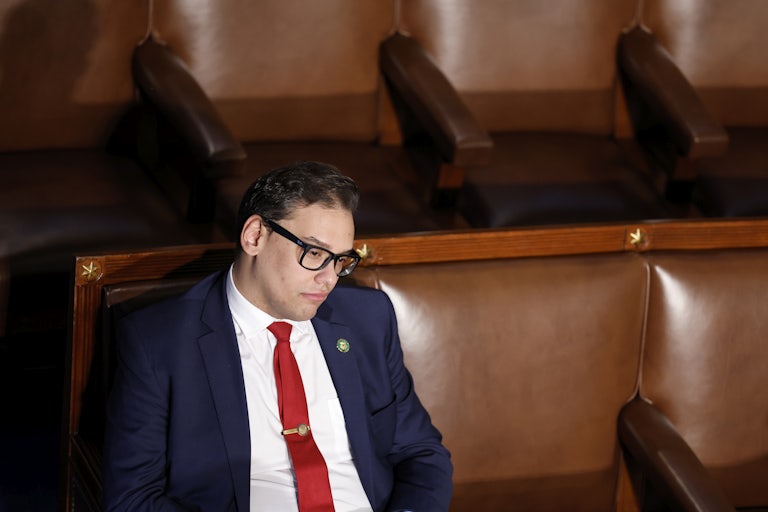 Anna Moneymaker/Getty Images
In this country, nobody wants to work (with George Santos). The New York representative had been hard-pressed to find a place to contribute his seasoned and experienced mind, but finally, it appears he'll be finding a home on the Small Business Committee and the Science, Space, and Technology Committee—among the many areas of Santos's expertise.
The news on Tuesday comes after uncertainty about whether Santos would have a spot on any committee at all. Last week, House Speaker Kevin McCarthy said Santos would not receive a spot on any key committee. Santos had hoped to gain a spot on the House Foreign Affairs Committee or the House Financial Services Committee, amazing preferences given the international and financial investigations Santos currently faces.
According to CNN correspondent Manu Raju, several Republican chairs indicated their unwillingness to have Santos on their committees. But Republicans also feared that if they denied Santos committee spots, it would set a precedent for any other members who may face public scrutiny even while they have not been charged with a crime. As in, Republicans were putting more weight on the possibility of future members being as brazenly dishonest than they are on the importance of not rewarding that dishonesty with committee spots. The kind of calculus only to be found in a very reasonable political party.

Again, Santos is facing criminal investigation both in Brazil for fraud and in the United States on the federal and county level into his finances and background. Republicans' purported fears already don't apply to the case at hand.
Moreover, they have already set a precedent for not seating members they deem unfit onto committees. In 2019, the House Republican Steering Committee elected to keep Republican Steve King off committees after he had asked in an interview with The New York Times how terms like "white nationalist" and "white supremacist" became "offensive." So seating Santos in order to avoid setting bad precedent for their party in fact overturns the previous precedent they had set.
But the crux of all this is that Republicans have a narrow majority. When they did not seat King on any committees, they were in a 30-some-seat minority, so the stakes of punishing someone were low. But now Republicans cannot afford to lose any more members. And any move they would have made to further delegitimize Santos risked him resigning or being forced out. So their calculus is perhaps less concerned with future precedent and more with not punishing members when the Republican Party needs every last one of them. Santos may not have gotten on the committee he wanted, but political realities at least gave him something.