FDA Eases Blood Donation Ban on Gay and Bisexual Men, but Only if They're in Monogamous Relationships
The proposed rule change is a big shift in blood donation guidelines, but it still doesn't go far enough.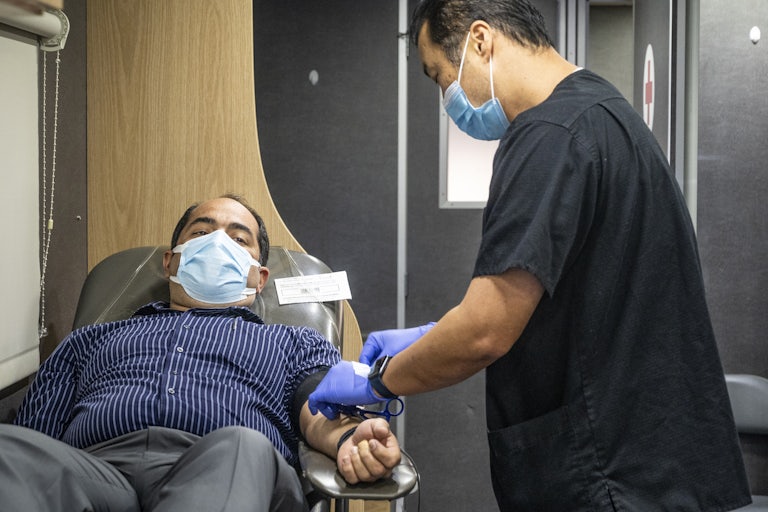 Paul Bersebach/MediaNews Group/Orange County Register/Getty Images
Gay and bisexual men would no longer have to abstain from sex before donating blood under rules changes the Food and Drug Administration proposed Friday, but only if they are in monogamous relationships.
Men who have sex with men, or MSM, were initially banned from donating blood during the HIV/AIDS crisis in the 1980s. The FDA relaxed those rules, first in 2015 by deciding MSM could donate after remaining celibate for a year and then again in 2020 by changing the abstention period to three months.
Under the newly recommended changes, all potential blood donors—regardless of gender or sexual orientation—would report whether they had seen multiple sexual partners or a new partner in the past three months. If so, they would be asked if they had anal sex. If they have, they would have to wait before they can donate blood.
There will be no change in deferral time for people taking PrEP or PEP, landmark HIV-prevention drugs, for people who consistently wear condoms during sex, or for people who present a negative HIV test.
The American Medical Association, blood banks, and LGBTQ rights organizations have urged the FDA for years to change its rules for blood donation. Health experts say the current regulations are homophobic, outdated, and don't actually work to keep the nation's donated blood supply safe.
Some experts worry that the proposed changes would still single out MSM, many of whom say they have felt like pariahs for decades because the FDA rules make them feel as if they are seen as untrustworthy or merely disease transmitters.
The Human Rights Campaign hailed the potential changes as "an important first step toward dismantling an antiquated and discriminatory blood donation policy."
But "while today's announcement is a victory, it's not the end of the road," HRC President Kelley Robinson said in a statement, calling on the FDA to adopt "an approach rooted in science, not identity."
The FDA proposal will be open for public comment for 60 days, after which the agency will review the comments and make a final decision.