Donald Trump Says All Presidential Candidates Should Take "Mental Competency" Tests
As we all know, he would definitely ace that test.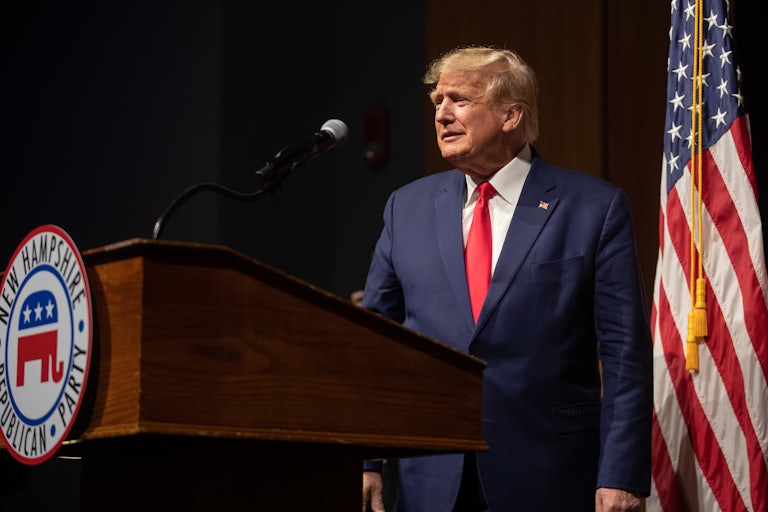 Scott Eisen/Getty Images
"ANYBODY running for the Office of President of the United States should agree to take a full & complete Mental Competency Test simultaneously (or before!) with the announcement that he or she is running, & likewise, but to a somewhat lesser extent, agree to a test which would prove that you are physically capable of doing the job," Trump wrote on Truth Social. "Being an outstanding President requires great mental acuity & physical stamina. If you don't have these qualities or traits, it is likely you won't succeed. MAGA!"
The former president is no stranger to mental competency tests. He went viral in the summer of 2020 when he bragged repeatedly about doing well on such an exam. Trump said one of the questions involved hearing a series of words and then repeating those words back. As a hypothetical example, he said the series could be, "Person, woman, man, camera, TV."
Trump clearly thought he had taken a test that provided further proof of his being a "very stable genius." As it turns out, he actually took the Montreal Cognitive Assessment, which is usually administered to someone suspected of experiencing dementia or other cognitive declines. A perfect score on that test only shows the test-taker is not cognitively impaired.
As for Haley's suggestion, not only is it ageist, but it's also not that great a suggestion. Three geriatric health experts told Slate that the aging process varies from person to person, so a mental competency test won't necessarily provide useful results.
"There are huge individual differences in how people age. Some are sharp as a tack at 90 or 100, some have cognitive impairment in their 50s," explained Carolyn Aldwin, the director of the gerontology program at Oregon State University.

A mental competency test also won't measure leadership or diplomacy skills.
It would seem that Haley's proposal isn't really intended to change policy, but more to make her stand out from her opponents. At 51, she's currently the youngest presidential candidate. But that can't be her only thing.