Oil Refineries Dumped More Than a Billion Pounds of Chemicals in Our Water in 2021
A new report says the Environmental Protection Agency is failing to enforce the Clean Water Act, as oil refineries continue to poison American waterways.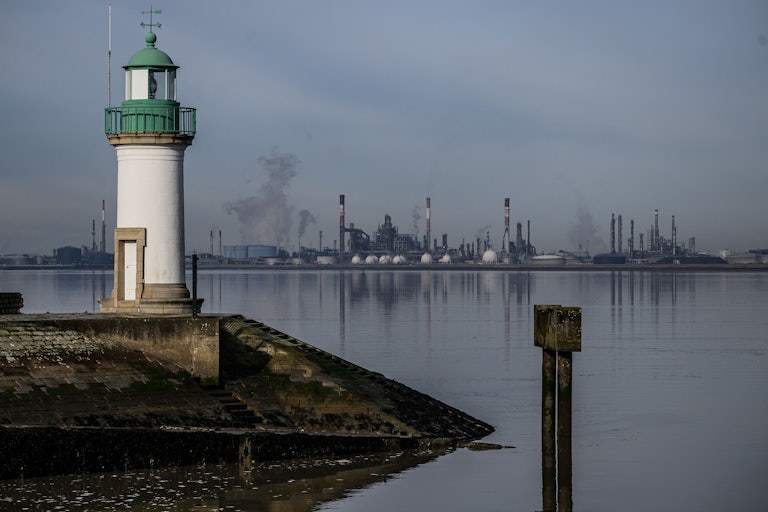 LOIC VENANCE/AFP/Getty Images
We are looking down the barrel of a worldwide mass plant and animal extinction. And yet the U.S. government continues to let fossil fuel interests treat our planet, and us, like garbage. A new report says the Environmental Protection Agency is failing to enforce the Clean Water Act, allowing U.S. refineries to pour half a billion gallons of wastewater every day into waterways. According to the Environmental Integrity Project report, this resulted in upward of 1.6 billion pounds of chemical waste poisoning American waterways in 2021.
These chemicals are incredibly harmful to wildlife—to their reproductive systems, food and oxygen sources, and even biology. In just one example, a Bay area minnow, more than 80 percent were found to have spinal deformities due to selenium pollution, a chemical that has been dumped to the tune of tens of thousands of pounds in American waterways.
About 68 percent of the refineries examined in the report dumped into waterways designated as impaired—as in, these waters were already so polluted that they were not permitted to be used for fishing or swimming, or were not healthy for aquatic life.
The refineries are also notable sources of so-called "forever chemicals," or PFAS, that have been linked to things like cancer, endocrine disruption, and fetal development complications. Refineries that have been specifically sampled for PFAS show alarming results: In 2020, a Colorado facility had a concentration of a PFAS variety 14,000 times higher than the EPA's limit for drinking water.
The Clean Water Act directs the EPA to limit discharge of harmful refinery pollutants and to tighten those limits at least once every five years if possible. Instead, the report says, those standards have not been revised since 1985. Many chemicals are left unregulated, and many potential new innovations to enforce possible regulations are left untouched. And the EPA is remarkably failing to act in accordance with whatever authority it has now.
Records showed that nearly 83 percent of examined refineries exceeded permitted limits on water pollutants at least once between 2019 to 2021; this was a total of 904 violations involving excess dumping of cyanide, ammonia nitrogen, sulfide, oil and grease, and more. Only about 15 violators were penalized. One culprit, the Phillips 66 Sweeny Refinery near Houston, Texas, exceeded its permitted pollution limits 44 times (42 of which involved cyanide) from 2019 to 2021. The facility was penalized just $30,000.
"I have personally witnessed the dumping of untreated plant water into the southeast Texas watershed, which unfortunately drains into the Gulf of Mexico. The very waters upon which we depend for jobs, food, and recreation become more polluted every passing day," said John Beard, founder and executive director of the Port Arthur Community Action Network. "If water truly is life, what will become of us when there's no more clean, living water?"