House Republicans Pass "Parents Bill of Rights" That Actually Just Polices Schools and Students
The bill is another Republican attack on education, this time on the national level.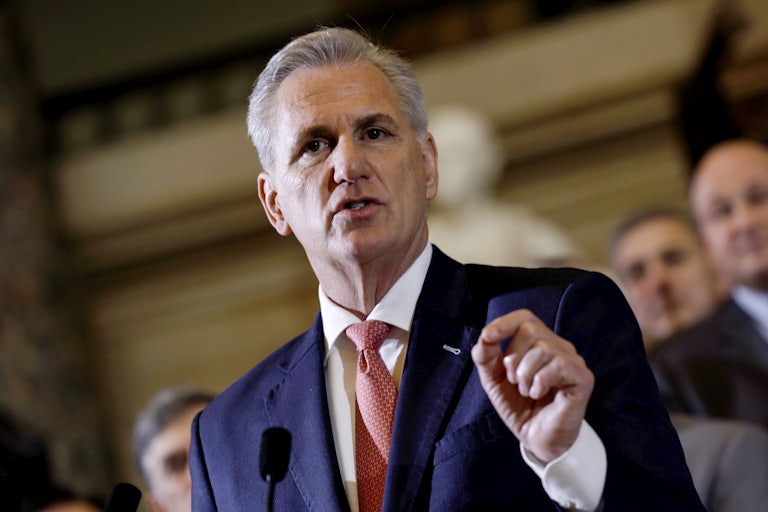 Anna Moneymaker/Getty Images
The Republican-led House on Friday passed its so-called "Parents Bill of Rights," 213-208. Framed as a positive piece of legislation, the bill actually aims to police teachers and school staff and thus obstruct the independent flow of education for students.
The radical bill calls for school districts to post curriculum information and provide parents with lists of reading materials available in school libraries. Such practices have already been test-run in places like Florida. Teachers there have been forced to empty classroom libraries, cover them up, or even catalog each book into a central system to check for compliance with their districts' restrictive standards.
The legislation also (incorrectly) implies that parents are never listened to in schools. It calls for school districts to consider community feedback when making decisions, allow parents to address school boards, and notify parents of violent activity happening on school grounds. By including already standard practices in the bill, Republicans are couching their more radical demands in what seems like a reasonable bill.
If anything, the bill's nod toward school board meetings appears to be implicit approval of attacks school staff have already endured. School boards and teachers across the country have expressed concerns surrounding classroom freedom, and even for their own lives. Whipped up by Republican officials, a loud minority has targeted schools and protested everything from Covid-19 safety precautions to classroom material.

In 2021, the National School Boards Association sent a letter to the Biden administration asking for an investigation into violent threats against school board members. They described the threats as potentially "equivalent to a form of domestic terrorism and hate crimes." After receiving the letter, Attorney General Merrick Garland directed the Justice Department to carry out an inquiry. House Republicans have since aimed to discredit the letter and the inquiry.
It's unlikely the "Parents Bill of Rights" will make it pass Biden's desk, but by passing the radical legislation, House Republicans are escalating animus toward already overworked and underappreciated teachers. They moreover are further nationalizing the attack on academic freedom that has already been taking place from Florida and Texas to Michigan and South Carolina.