Workers of Color Made Up 100% of Union Growth in 2022
Another reminder that "kitchen table issues" and "social" issues are one and the same.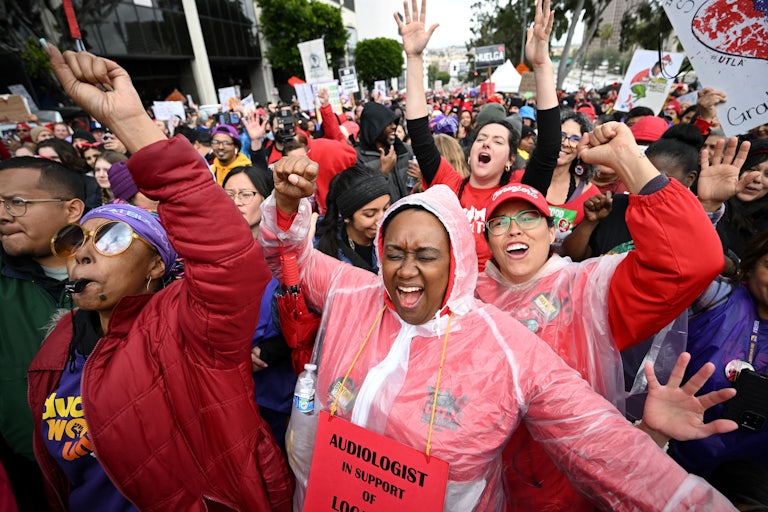 ROBYN BECK/AFP/Getty Images
Los Angeles public school support staff, teachers, and supporters rally outside of the school district headquarters on the first day of a three-day strike on March 21.
As thousands of workers went on strike this week, evidence continues to build that the labor movement is back on an upswing in America. But how we engage with the details of this development will determine whether the swing remains a momentary uptick, or becomes part of something larger.
Recent data from the Bureau of Labor Statistics shows that the number of unionized workers in the United States increased by 200,000 from 2021 to 2022. And that growth came entirely from workers of color. There was an increase in 231,000 unionized workers of color last year, while white unionized workers actually decreased by 31,000. Further, of all racial and ethnic groups, Black workers have continued leading unionization rates, at 12.8 percent, higher than the figure of total unionized workers.
While the total share of workers represented by a union still floats at just above 11 percent—much less than where things stood decades ago—union election petitions last year increased by 53 percent, the highest amount since 2016.
According to BLS data, industries that saw the largest increases in unionization were state government; durable goods manufacturing; arts, entertainment, and recreation; and transportation and warehousing. And states with the largest increases in unionization? California, Texas, Ohio, Maryland, and Alabama.

All this to say, monolithic conventions on who constitutes the "working class" need a final upending.
Indeed, the diversity in the movement can be seen in the nature of labor action these past few months. This week, workers at over 100 Starbucks locations nationwide went on strike to protest the company's alleged union-busting schemes. Another union representing 30,000 Los Angeles school staff workers—including custodians, cafeteria workers, bus drivers, special education assistants, and more—conducted a three-day strike, and the 35,000-strong United Teachers Los Angeles union joined in solidarity. At the beginning of the year, 7,000 nurses went on strike in New York City, protesting poor pay and working conditions brought on by chronic understaffing. All this does not include the some 100,000 rail workers nationwide who almost went on strike last year, until the government itself imposed a contract upon them.

Conservatives—both Republican and Democrat alike—often opine on the need to focus on "kitchen table issues" instead of getting wrapped up in "social" ones. The latter, of course, being another way to say issues surrounding identity and race (much like the term "woke," but perhaps less likely to incite outrage). But the union data reveals once more that issues of identity and workers' rights are deeply intertwined. After all, unionization and labor struggles are direct mechanisms to better accomplish racial and social equality; the ability for people to afford to live happy and dignified lives is inherently tied to their ability to enjoy fundamental social and civil rights within those lives, too.

On moral grounds, every politician and journalist should recognize these facts. And for any politico concerned solely with electability, the good news is the results follow the morals anyhow.
In November, several Democrats who refused to pin the economic against the social, even in battleground states, went on to win. That includes people like Governor Josh Shapiro and Senator John Fetterman in Pennsylvania, Senator Raphael Warnock in Georgia, and Governor Gretchen Whitmer in Michigan. And for examples of how these political successes turn to policy successes, look no further than the sacred and often pontificated on Midwest.

In 2018, Governor Whitmer promised to repeal the anti-worker "right-to-work" law. And after voters re-elected her with wide margins—and delivered her majorities in both state chambers for the first time in decades—she delivered on Friday, signing a bill to repeal the anti-union legislation. Just a week earlier, Minnesota Governor Tim Walz signed a bill that guaranteed free breakfast and lunch for all public school students, geared especially for food insecure families, many of whom are marginalized and people of color (perhaps a more direct connection between social and so-called "kitchen table" issues).
As more people become better acquainted with the contradictions of capitalism—from noxious train derailments, to immediately aided collapsing financial institutions (all of which is borne from corporate-bought deregulation)—we may be at another moment in the long history of labor for which a resurgence is possible. But such a moment will not be helped by a media and political apparatus that seeks to flatten the labor movement, rather than embrace it for the vast and diverse coalition it actually is.