A Compendium of Statements That St. Peter Might Be Asking Pat Robertson to Explain
Farewell to a man who blamed LGBTQ people and people of color for virtually everything.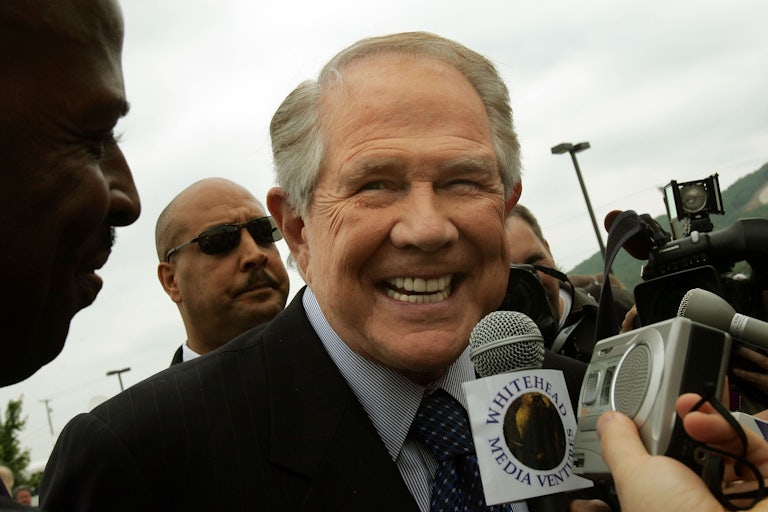 Mario Tama/Getty Images
Pat Robertson
Televangelist Pat Robertson, who founded the Christian Broadcasting Network, died Thursday at age 93.
Robertson was one of the main drivers behind Christian conservatism's entry into mainstream politics, introducing what would become some of modern Republicans' favorite talking points, including blaming LGBTQ people and people of color for pretty much everything.
Here are nine statements Robertson made that he will probably have to explain at the pearly gates.
1. Gay people and abortion caused 9/11
Robertson hosted fellow televangelist Jerry Falwell on his show The 700 Club just days after the 9/11 attack. At one point, Falwell said, "The abortionists have got to bear some burden for this because God will not be mocked. And when we destroy 40 million little innocent babies, we make God mad. I really believe that the pagans, and the abortionists, and the feminists, and the gays and the lesbians who are actively trying to make that an alternative lifestyle, the ACLU, People for the American Way, all of them who have tried to secularize America, I point the finger in their face and say, 'You helped this happen.'"
Robertson replied, "I totally concur, and the problem is we have adopted that agenda at the highest levels of our government."
2. Haitians deserved the earthquake in 2010
Haiti was struck by a devastating earthquake in January 2010. The death toll is still uncertain, but potentially half a million people died. Robertson said that Haitians had made a "pact with the devil" and have been "cursed" ever since.
3. Feminists are evil
In a 1992 fundraising letter, Robertson wrote: "The feminist agenda is not about equal rights for women. It is about a socialist, anti-family political movement that encourages women to leave their husbands, kill their children, practice witchcraft, destroy capitalism and become lesbians."
4. Abortion caused Hurricane Katrina
Robertson said Hurricane Katrina hit New Orleans in 2005 because God was angry about abortion. "I was reading … a book that was very interesting about what God has to say in the Old Testament about those who shed innocent blood," he said. "Have we found we are unable somehow to defend ourselves against some of the attacks that are coming against us, either by terrorists or now by natural disaster? Could they be connected?"
5. God won't bless America because of gay people and abortion
Robertson said at the start of 2010 that God wouldn't bless America that year because there was too much abortion and homosexuality and not enough prayer.
"Fifty million babies slaughtered," Robertson said God told him. "You can't have legislation that is anti-God. You can't foster in your midst things that I call an abomination.… If you do, sooner or later judgment's going to come."
6. Gay people are Nazis
In March 1990, Robertson referred to homosexuality as a "pathology" that needed to be treated. "Many of those people involved with Adolf Hitler were Satanists, many of them were homosexuals," he said on The 700 Club. "Those two things seem to go together."
7. Muslims are also Nazis
In 2011, Robertson compared Islamophobia to being anti-Nazi. "I was thinking, you know, if you oppose Muslims, what is said?" he asked on The 700 Club. "Well, you're a bigot, right? Terrible bigotry. I wonder, what were people who opposed the Nazis? Were they bigots?"
8. God would overturn the 2020 election in favor of Donald Trump
Robertson told 700 Club viewers that the lawsuit filed by Texas's then–Attorney General Ken Paxton challenging the results of the 2020 election was a "miracle."
"They're going to the Supreme Court to say, 'This election was rigged and you've got to overturn it,'" Robertson said, pushing Trump-backed falsehoods. He also said God would intervene.
(At least on this point, Robertson seemed to correct himself, saying two weeks later that Trump was living in "an alternate reality.")
9. Towels in Kenya transmit AIDS
In 2014, a 700 Club viewer asked whether an upcoming trip to Kenya was risky.
"You might get AIDS in Kenya," Robertson warned on air. "The people have AIDS in Kenya. The towels could have AIDS."