Conservatives: It's "Anti-Hero" to Arrest Daniel Penny for Killing Jordan Neely
The mental gymnastics needed to justify a 15-minute choke hold are wild.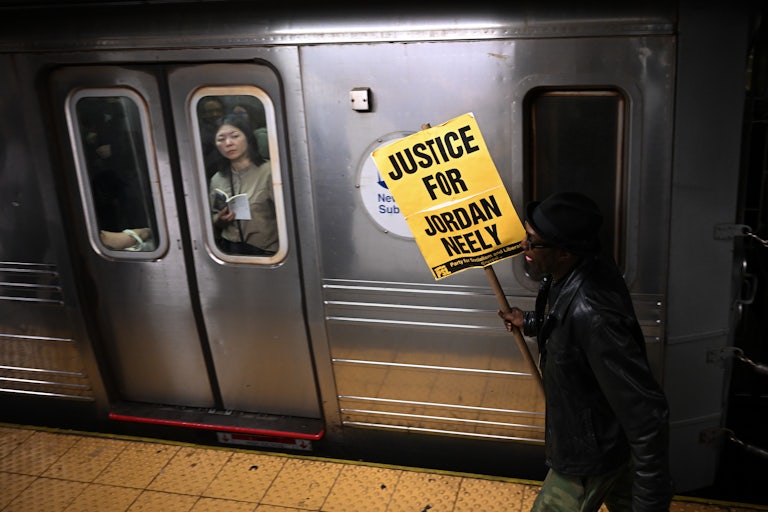 Alexi Rosenfeld/Getty Images
A protester in the New York City subway on May 8
The right is jumping to the defense of Daniel Penny, somehow arguing that arresting someone for manslaughter is actually "pro-criminal."

Penny surrendered to New York City authorities on Friday for a charge of second-degree manslaughter, after he was filmed placing Jordan Neely in a fatal choke hold on the subway for 15 minutes.
Since the announcement of charges against Penny, right-wing figures have advanced ludicrous and vicious ideas about it all, claiming the arrest of Penny to be unjust—the most bizarre among them being that to arrest Penny is to be pro-crime.
"It's pro-criminal, it's anti-hero," Fox host Greg Gutfeld said on Thursday. "It's time for us to get this progressive pro-crime ideology to walk the plank," he continued, implying that Neely, the person who was strangled to death, was the real criminal.
Jack Posobiec retweeted a claim that society is now a "sinking ship" because "morally upright chads like Daniel Penny" have to submit to Manhattan District Attorney Alvin Bragg (the far-right's favorite boogeyman for Trump-related reasons).
Numerous other right-wing and conspiratorial figures, like Mike Cernovich and Collin Rugg, have stuck to a broader line of calling the killer a "good Samaritan." They are advancing the notion—sans brain or soul—that Penny's arrest symbolizes the state punishing an individual for being a hero and for sticking up against evil.
The continuous smearing of Neely, a man already dead, follows Fox's previously cruel coverage of the murder: They laugh, encourage jeering, and blame the murder on anything but the actual culprit.
If there's anything repressive or authoritarian about this case, it's not that someone is being charged for killing. It's our reaction to the already senseless killing of a homeless man who embodies the millions of people our society fails and leaves in the dust. Just days ago, the police arrested a journalist trying to record them violently repressing people protesting that Penny—who, again, was caught on film killing someone—had not yet faced consequences.
There are corrupt power structures to be confronted in our society; do try looking for the ones that pit you against your fellow human beings, the ones happy for you to assume the worst in others who are more like you than you realize.