Ron DeSantis Bans Credit Card Companies From Helping Track Gun Criminals
The Florida governor seems determined to sign as many dangerous bills as possible into law.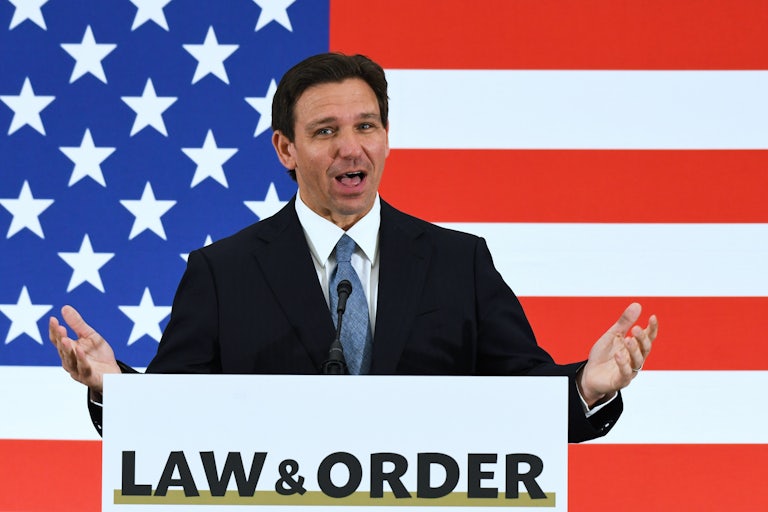 Paul Hennessy/SOPA Images/LightRocket/Getty Images
Florida Governor Ron DeSantis
Just weeks ago, Ron DeSantis made it legal in Florida to conceal-carry a gun without a permit, training, or even a background check.
And on Friday, he signed a bill to prevent credit card companies from tracking the sale of firearms and ammunition. The bill stops companies from helping track suspicious weapons purchases—an increasing concern while the United States is flooded with random shootings and mass shootings essentially every few hours.
Instead, DeSantis in rapid succession has made it easier for potentially violent people to conceal-carry guns with abandon, while making it more difficult for law enforcement to proactively respond when those carriers may have nefarious intentions.
Companies found in violation of the bill will be fined up to $10,000.
Credit card companies had expressed willingness to adopt the gun-tracking practice, which pretty much involves ascribing a distinct four-digit "merchant category code" for sales at gun businesses. Such codes are already used to distinguish purchases from oft-frequented places like grocery stores, gas stations, and restaurants.
Consequently, while DeSantis claims the bill is a defense against big government, it really is just a stake he is laying on the issues of guns. If he was really so concerned about government overreach or mass data surveillance, he would ban the use of such codes outright. But the very limited purporting of principle is DeSantis's entire brand. Also this week, he again escalated his war against Disney and its monorail, going not against universal corporate immunities or misdeeds but just Disney specifically—because he doesn't like that it spoke out against his infamous and repressive "Don't Say Gay" bill.